Tips For Hosting Your Next Event From Our Helpers

Hosting a party in your home can mean you have a lot on your plate. No matter how much you prep, it can seem like there isn't enough time for you to do everything necessary the day of. Our Party and Event staff is more than happy to help at your next event. Check out some awesome event hosting tips from our best staff located across the country!
7 Tips From Party Host Helpers
1. Have your Helpers arrive at least 30 minutes before the guests so that you can show them the kitchen and go over the food, beverages, timeline, and other details. This allows you to focus on your guests when they arrive and let us do the work!  -Abby, Houston
2. When hosts provide a basic timeline, it enables us to know exactly what needs to be done and when. It also decreases questions so the hosts can enjoy their party! -Maddison, Boston
3. Set out platters with the serving utensils the night before with a label of what food goes on which platter. This makes it easy for Helpers to jump in when they arrive! –Scott, Charlotte
4. If you're hosting a party in the fall or winter, make space in your coat closet or a spare room for coats. If you're having a lot of guests you can rent a coat rack and purchase coat check tickets so Helpers can keep track of everyone's jackets efficiently! -Becca, Scottsdale
5. If your Helpers are arriving close to guests' arrival, preheat the oven! This allows for us to heat appetizers shortly after we get to your home. -Nelly, Richmond
6. If you're having a large event, I recommend having a Helper by the door with champagne or wine so guests can enjoy a drink right away. This also alleviates a line at the bar or drink station. -Steph, Chicago
7. If you're having a buffet, I suggest providing index cards and a marker so the Helpers can label the food. This helps guests know what to choose based on their preferences. -Jason, Palm Beach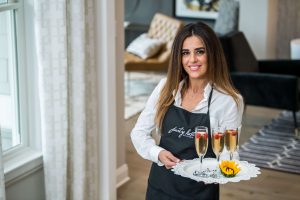 If you're hosting a party soon, give us a call and we're happy to give you more information. Party Host Helpers has staff nationwide who are trained to make your event a breeze for you so you can be the host with the most!
Our staff can set up, serve, bartend, check coats, clean up, do dishes, and everything in between. Contact us today to get in touch with your local Regional Director who can match you with the right Helpers for your event.