When it's time to host your next Pittsburgh area event and you are seeking party servers, there is only one name to know: Party Host Helpers. When you hire our event and party staff, we take care of the service related details so you can join your guests as the host and not be distracted.
Party and Event Help on Demand
Have you ever felt stressed after hosting friends and family? This is why we created Party Host Helpers. Our team comes in and helps where you need it. Maybe you want to make sure there is always ice at the bar or wine opened, perhaps you want someone to take coats, clear plates, take out trash or fill the dishwasher. Our qualified, background checked General Helpers can handle it all.
Hire Party Staff for Your Pittsburgh Festivities
You've planned a great party. Now get the help you need to make it all happen! When you hire Party Host Helpers, we ensure your event is as perfect as you envisioned. No matter the size of your party, or how much staff you wish to hire, there are professional servers from the Pittsburgh area available to help you by greeting guests, keeping the party on schedule, serving food and bartending. We'll even clean-up for you! Our job is to make you, the host, look good while eliminating your stress, so you can enjoy your party.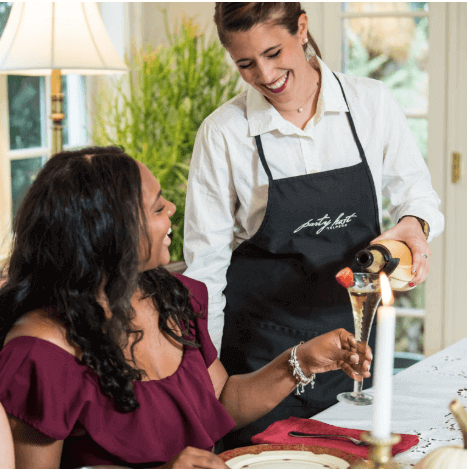 PITTSBURGH, WE'RE HERE TO HELP
PARTY ON, PITTSBURGH! WE'RE HERE TO SERVE YOU
Family, friends and co-workers… they're the soul of a party. You've invited them and want to enjoy their company, and they want to enjoy yours too. Whether your party is to celebrate a birthday, a workplace accomplishment, or to raise funds toward a charitable cause…. or just for the sake of getting together and having a party, our servers strive to ensure your event is perfect while making sure you don't have to "work" while your guests visit. So you may be social at your next Pittsburgh area event, hire Party Host Helpers' greeters, servers and bartenders to help your party run smoothly and ensure you enjoy the party too!
PROFESSIONAL PITTSBURGH EVENT SERVERS FOR HIRE
Hire party staff in Pittsburgh from Party Host Helpers to fulfill all of your needs, no matter the size of your party or event. We work in homes or event spaces, and allow you to enjoy your own party. When you hire an event staff, Party Host Helpers will provide you with professional, hardworking, service personnel, from the Austin area, that will work hard to make sure your party is everything you planned.
HOSTING YOUR PARTY WITH A PASSION
My love for parties and socializing began at a very young age, three days old to be exact. I attended my first springtime block party in May 1981 and since then, many of my fondest memories center around gatherings with family, friends and co-workers. I was even named "Queen of the Scene" by a Philadelphia radio station in 2011!
Based on those early experiences throughout childhood and early adulthood, I've come to realize that the art of entertaining is not just the planning, preparing and hosting … it's about enjoying your guests! I've spent the last 12 years helping clients nationwide, ranging from brides to corporations, to make their event dreams and vision a beautiful reality. After their large affairs, clients wanted to continue working with me and often needed hands-on assistance with hosting smaller events at home. It seemed like a natural next step to create Party Host Helpers.
Like you, I have a knack for entertaining and really value the importance of creating memories through a party. Like you, I have woken up the day after hosting a party and realized that I was too busy cooking, serving and cleaning to actually spend quality time with my nearest and dearest. It was all a blur. These are the reasons I started Party Host Helpers. I'd love to introduce you to our experienced, trained, lovely host helpers. Call or email me and I will explain how they can manage your next party so that you can relax and enjoy it!
Life's a party so enjoy it!
Renee Patrone Rhinehart