Last Minute New Year's Eve Party Tips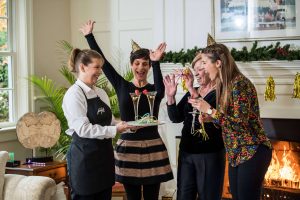 Hosting New Year's Eve this year? Make sure it is the party of the decade! Party Host Helpers has some fab last minute New Years' Eve party tips below. 
New Years' Eve party tips  
1) Have a place to put coats as winter is in full swing this time of year! 
2) Try a new drink! Our confetti champagne cocktail is a fun classic with a splash of vanilla vodka. (link to the youtube video)
3) Have food and drinks ready as soon as guests walk-in.
4) Create a playlist ahead of time so you can easily hit "play" before guests arrive so the party atmosphere is prepped.
5) If you live in an apartment or home that is close to your neighbors, let them know you'll be having a party (and consider inviting them!)
6) Encourage guests to take a cab or use a ride-sharing app so they can arrive and leave safely after indulging in a few glasses of champagne.
7) On New Year's Eve, you can never have too much glitter! Grab some and use it to decorate tables or use edible glitter on cupcakes or other sweets.
8) Put a reminder on your phone to turn on the TV for the countdown!
8) Grab plenty of hats and noisemakers, no matter what anyone says, they never get old on NYE.
9) Put out a water dispenser. It's no secret NYE is a holiday with plenty of drinking. Ensure guests' safety (and well-being the next day) but having water easily accessible. 
We hope these last minute New Year's Eve party tips were helpful and we hope to be part of all of your fabulous events in 2020 and beyond. 
Party Host Helpers is a licensed and insured company that provides event and party staff for all kinds of events. Our Helpers are experienced servers, bartenders, and general staff who can take any event to the next level while taking tasks off your hands.
Each city has a designated Regional Director who matches the right staff members to each event. We are in Charlotte, Philly, Houston, Richmond, Seattle, Washington D.C., Boca Raton, Virginia Beach, Denver, Phoenix, Hudson Valley and more. 
Contact us today to book helpers for your next event so you can actually enjoy it!