Super Bowl Games to Entertain Everyone
 The Super Bowl LVII is finally here! Whether you like to watch it for the team, the commercials, the players ;), or you don't even like watching it, odds are you are going to end up either hosting or attending a party. Here at Party Host Helper we never want anyone to be bored at a party so we have come up with a list of games to play while watching the Super Bowl. Want help hosting altogether? Party Host Helper has it taken care of, go on our website to find out more information!
Trivia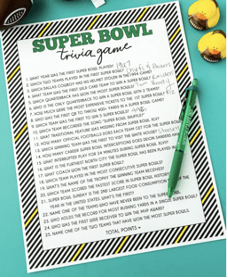 For our football lovers, test your knowledge and see how much of a fan you actually are with these free printable trivia cards. These are so easy and fun to throw on tables throughout the night to keep your guests entertained. The best part about these is you don't need someone to play with, you can just do them yourselves! There are all different types of trivia like mascot matching, specific team trivia, or just general knowledge. Find free printables here!
Commercial Bingo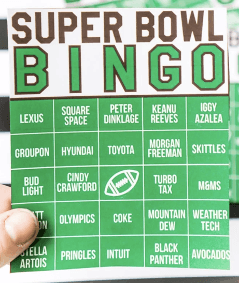 Obviously one of the best parts of watching the Super Bowl is watching the commercials. Here is a game that will have everyone's attention on the screen, commercial bingo! Print out bingo cards, or make your own, with brands or actors on them and give everyone some markers so they can mark when they see commercials. Make sure to not make every card the same or you are going to have quite a few winners. You can make the prizes as basic or as extravagant as you would like, it's your party!
Halftime show predictions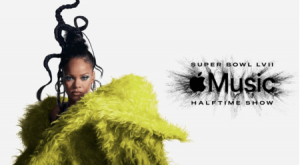 I don't know if it is just me, but I am beyond excited for Rihanna to perform at the halftime show this year! Why not add a little competition to this excitement? Leave some paper and pens throughout the party and ask people to write down what songs they think Rihanna is going to perform. Whoever gets the most correct wins, simple as that! This is such an easy game to add a little fun competitiveness to your night.
Doughnuts on a String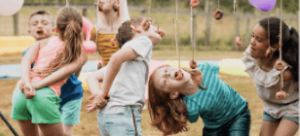 This game is hilarious and a great way to keep your party going. Either make your own or just use store bought doughnuts and some string (make sure it is strong enough to hold a few). Whoever wants to play grabs a doughnut and puts it on the string and lines up in front of their donut. The objective of the game is to be the first person to be able to get a bite out of their doughnut while they have their hands behind their back. If you really want to make it challenging, add a blindfold. This is a great game for both kids and adults to take part in!
Super Bowl parties are a great excuse to have your friends over and party on a sunday. We want to make sure you make the most out of it, especially if you have work the next day. No matter who you want to win (Go Birds!) Party Host Helpers is here to help with all of your party needs. Check us out for more party ideas or to hire a helper for your next party!