Valentine's Day Charcuterie Board
Although flowers and chocolate are often associated with Valentine's Day, let's shake things up this year! A charcuterie board is a wonderful way to personalize a piece of art that comes from your heart into something that will be cherished by the recipient. This Valentine's Day, Party Host Helpers is ready to assist you with your needs!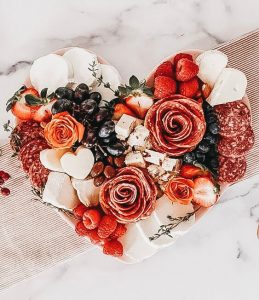 https://www.winewithpaige.com/valentines-day-charcuterie/
Valentine's Day Charcuterie Board Needs:
Meats: Salami, Soppressata, Prosciutto 

Cheeses: Colby, Pepper Jack, Cheddar

Nuts: Almonds, Cashews, Walnuts

Bread/Crackers: Toasted, Sesame Breadsticks, Saltines 

Snacks/Candy: Chocolate Hearts, Strawberry Pocky, White Chocolate Covered Pretzels, Valentines Day themes Chocolates

Dips/Spreads: Melted Chocolate, Cream Cheese, Decorative Butter

Fruits: Strawberries, Grapes, Dried Fruits, Cranberries, Cherries

Charcuterie Board

Food Safe Gloves

Serving Bowl

Serving Utensils

Napkins
Directions: 
First, Start creating your board by placing the cheeses on top of the charcuterie board in the shape of a heart. Next, add the meat, and try putting the meat in a tiny cup and arrange it like a flower. Fruit should be added after that, along with any fruit preserves. Next, put the sweets on: The board should be covered in candy and chocolates. Last, roses or other flowers/decorations can be added as a garnish to provide a special touch before serving this to all of your guests.
Tips & Tricks:
Try using a variety of cheese, as different fruits and crackers pair better with specific cheeses

Pair with a nice dry red wine of your choice

Be prepared for your creation to get messy!

More does no necessarily mean better

Unique garnishes will make your board stand out

The size board you use matters! 

The most important thing is to have fun
All in all, Do not be hesitant to spend time with friends and celebrate love in this month of February, whether you are on a date or having a Gal-entines celebration. Party Host Helpers is always here for your party needs! We can reach you anywhere in the United States, and our party crew and party services are unmatched. You will definitely enjoy your party, even as the host, thanks to our skilled bartenders and servers! To work with us on your Valentine's Day event, call (844) 30-PARTY or visit partyhosthelper.com. We can't wait for you to go on a Valentine's Day date that won't break the bank!