Tips For a Perfect Charcuterie Board on Valentines Day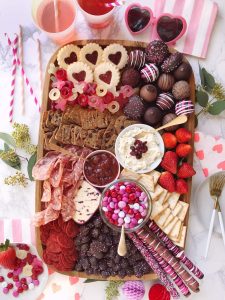 Photo Courtesy of https://domestikatedlife.com/
With Valentine's day coming around the corner, it's essential to know what to put on your perfect charcuterie board. The internet has been obsessed with this trend and it's time we all try them out too! Party Host Helpers is here to help you out with this decadent charcuterie board, whether it's your first time making one or your millionth! For your next celebration, Whether you need kitchen help, a party coordinator, a bartender to hire, or all three, Party Host Helpers is here and ready to help in all aspects. Now, here are some tips for a perfect charcuterie board.
Chocolate Pretzels
Instead of staring off savory or sweet, let's do both. Long pretzel sticks drizzled in white or dark chocolate are the perfect combination for you and a loved one. A personal favorite is dark covered chocolate pretzels with a white drizzle along the side. 
Fresh Fruit 
Every charcuterie board needs balance. With so many snacks make sure to have a palette cleanser with some fresh berries. I personally prefer blueberries, cherries, strawberries, and raspberries. If you want to think outside the box put in a few slices of clementines or oranges! 
Cranberry Cheese
This cheese pairs nicely with almost anything. It has a subtle sweet taste of berry to it that makes it divine with every bite. You can pick up this cheese at almost any grocery store and it can even come in family-sized portions!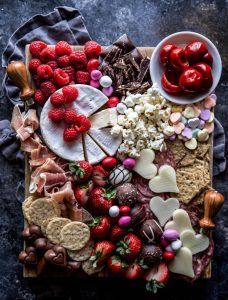 Photo courtesy of https://www.climbinggriermountain.com
Walnuts
So far a lot of my suggestions have been sweet, so to add a little salt to the mix you can throw in some nuts around the board! They make for a great decoration around the charcuterie board as well. It's a simple touch a lot of people like.  
Salami 
No Charcuterie board is complete without some deli meat. A popular option is taking salami and folding it in half around the side of the board. You can substitute salami for different meat if you have a preference for anything else like pepperoni.
Greek Yogurt 
By adding a small bowl as a centerpiece, you can fill it with greek yogurt and a dash of honey. Some people use it as a dipping sauce while other people put some granola in it and just serve it as is!
Crackers
Another staple to any charcuterie board! There's a lot of room to be creative with this, so what kind of crackers do you like? You can go simple and do regular crackers or spice things up with seasoned ones.
Now that you're ready for Valentine's day, don't forget to hire Party Host Helpers to help you with your next planned party! You deserve to take a step back and watch everything come together. Make your next celebrations perfect by hiring our Helpers to set up the party with your best decorations or hand out drinks and a platter. We have event staff all over the nation including New York City, Pittsburgh, San Francisco, Dallas, Austin, Los Angeles, and more! For more information on our party servers and private bartenders, email us at parties@partyhosthelper.com or call us at (844) 30-PARTY.