3 Super Bowl Sunday football desserts that are sure to score you points with your guests!
Who are you hoping will win the Super Bowl? The Chiefs or the Buccaneers? No matter the outcome the only part that matters is winning over your guests with your unique football themed desserts! A year from now, no one remembers the teams, but everyone remembers the delicious desserts. Party Host Helpers is here to help you create the most memorable desserts with step-by-step instructions!
Before your mouth starts watering from admiring these delectable desserts, remember Party Host Helpers are here to help you with all of your party needs while abiding by all COVID precautions.  Be a guest at your own party by hiring a bartender, or utilizing our catering services and party coordinators!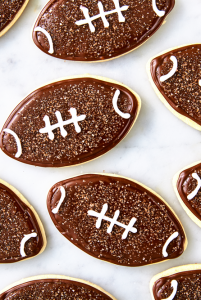 14, 18, 21 HIKE! Everyone loves cookies so why not make them in the shape of a football? You don't need to be super artistic to create these master pieces. The best part about this treat is that you can customize the cookies to be any flavor you want! Get extra creative and incorporate team colors from the Bucs or Chiefs. Thank you to Delish.com for this recipe.
Cute Chocolate Covered Strawberry Footballs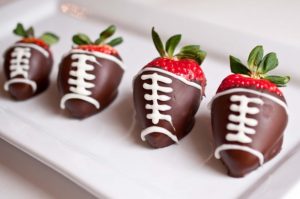 If you are looking to put a 'healthier' spin on your desserts look no further! With these chocolate covered strawberry footballs you can still stick to the Super Bowl Sunday theme while not worrying about consuming too many calories. To make this treat a healthier completed pass you can use sugar free chocolate! Thank you to domesticfits.com for this creative dessert.
Out of This World Oreo Cookies and Cream Cheese Football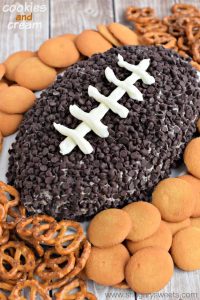 How delicious does this Oreo cookies and cream cheese football look from Shugary Sweets? This is sure to score a touchdown at your Super Bowl watch party! One of the best parts about this recipe is that you can dip anything you want into it! Nilla wafer cookies, to pretzels, to marshmallows, or even apples! Everyone will be huddling over this dessert for sure.
We hope these football themed desserts help you score a touchdown with all of your guests! We know being a host especially during a pandemic can be challenging however, we want you to know at Party Host Helpers we will be with you every step of the way. We have event staff all over the United States and we would love to help you on one of the most exciting Sundays of the year! For more information on our party services email us at parties@partyhosthelper.comor call us at (844)-30-PARTY.