The Perfect Fall Charcuterie Board
Let's celebrate the final few days of fall with a charcuterie board as November flies past! Charcuterie boards are undoubtedly trendy right now and won't be going out of style anytime soon. They are not only fashionable but also incredibly adaptable; you can use them as a present or an appetizer for practically any event! So let's put together the ideal Fall charcuterie board inspired by Unpeeled!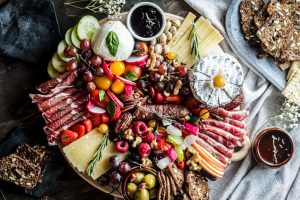 Don't limit your selection of cheeses for a charcuterie board to those made from cow's milk. Include a goat's milk cheese and/or a sheep's milk cheese in addition to at least one cow's milk cheese. Make sure that you are hitting various flavor and texture notes now that you have a selection of dairy cheeses available. Have a piece of the always-popular, creamy, soft brie? An excellent counter would be a crumbly, aged gouda. And both are delicious with some honey or apple slices.
Did you chop some savory old cheddar into cubes? Why not include a sharp piece of aged Parmigiano-Reggiano? To balance out the charcuterie platter, add a soft, fresh goat cheese. Remember the following guidelines: sweet, salty, crunchy, and soft. From there, a variety of crackers, nuts, fruits, and other foods can be used to fill in the gaps. For color and to fill in any gaps, I also enjoy adding a garnish of fresh herbs, like rosemary or sage, that are in season.
Instructions:
The cheeses on your charcuterie board should serve as anchors and should be chopped as needed. Manchego should be cut into triangles and cheddar should be chopped, for instance. Soft cheeses like brie and chèvre should be cut into wedges or logs and served with the proper knife or spreader. If you have a pointy spade knife, use it to cut crumbly cheese, such as aged Parmigiano or aged gouda.

Insert the charcuterie. Ribbon your prosciutto to add height and interest, or fold slices of aged salami into quarters or halves rather than serving them flat.

Add in some fruit, crackers, and sauces. There's no need for a lot of variety, but a few different crackers or fruits will seem more appealing and provide consumers with more variety.

Include some nice finishing touches. Mini pumpkins and sprigs of fresh, cold-weather herbs like sage, thyme, or rosemary would make a lovely addition to a fall charcuterie board.
We recognize that when the Christmas season approaches, hosting can be difficult and leave you feeling overwhelmed. Servers and bartenders are just a couple of the services that Party Host Helper offers to help make your event stress-free and effortless. To learn more about how we can assist you with your upcoming event, call (844) 30-PARTY or click here now.