Patriotic Drinks for Memorial Day and Fourth of July
Memorial Day Weekend officially kicks off the summer and we want to help you with these festive cocktails! Celebrate freedom by freeing yourself from hosting duties. Whether it is a Fourth of July party or just a backyard pool party, Party Host Helpers wants to help you create the perfect summer event!
Red, White and Blue Jell-O Shot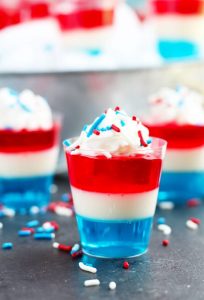 https://www.3yummytummies.com/red-white-and-blue-jello-shots/
Jell-O shots are a great way to get a party going. Easy to make and even easier to enjoy, these red, white and blue shots will have everyone making this their go-to drink for their next party! You can even make these the night before your event to save time.
Red, White and Blue Slushy Cocktail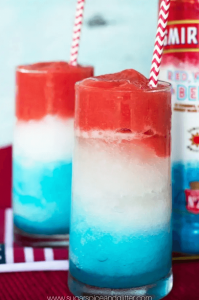 https://sugarspiceandglitter.com/red-white-and-blue-slushy-cocktail/
This frozen drink will have you and your guests feeling like a kid again! Inspired by Bomb Pop popsicles, this drink uses Smirnoff Red, White and Berry vodka giving you the perfect summer cocktail to make for any occasion. Serve it as a specialty drink or even enjoy it as a dessert!
Watermelon Cocktail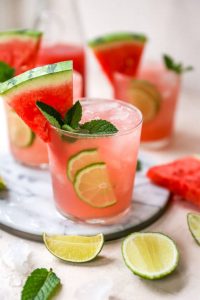 https://www.kimscravings.com/vodka-watermelon-cocktails/
Pretend you are at a resort while a Party Host Helper serves you this refreshing cocktail to help you cool off by the beach or pool! This delicious watermelon cocktail is ideal for those hot summer days and will have everyone at your party feeling both refreshed and relaxed.
Red, White and Blue Mule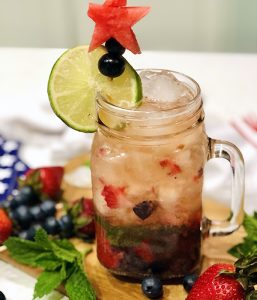 https://www.heinens.com/recipes/red-white-blue-mule/
Looking for something a little less sweet? Look no further! This Moscow Mule recipe is the perfect blend of fiery and refreshing. Pair this cocktail with a delicious BBQ dinner or with any summer day to provide just the right amount of spicy, sweet and strong.
All American Margarita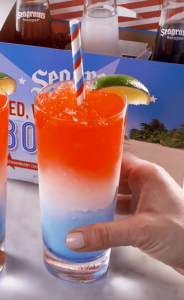 https://www.delish.com/cooking/recipe-ideas/a27471192/red-white-blue-memorial-day-margaritas-recipe/
This quick and easy recipe will have everyone asking if you used to be a bartender! Enjoy it frozen or on the rocks, you can never go wrong with a margarita. This recipe is great for a light lunch with your girls or as an after dinner cocktail. Whether you had the best or the worst day, a margarita can help!
Summer will be here before you know it and the parties will be right behind it. Let Party Host Helpers help you by contacting @partyhosthelper.com or calling at (844)-30-PARTY. Whether it's by serving drinks or cooking food, we will make sure your party is effortless on your part.