Easter Kids Crafts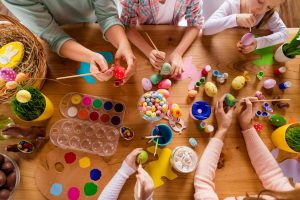 Happy Easter! Party Host Helpers has five fun Easter Kids Crafts for you. You can do them with friends, family, during the week, or on Easter day! These artsy crafts are for different ages and we hope you enjoy trying some of them with your little ones! For any early Easter party celebrations make sure to contact Party Host Helpers so you can have a HOPPY time hosting your gathering.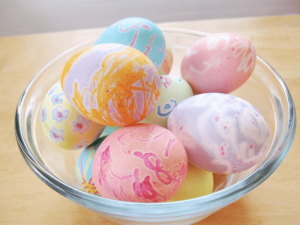 The first Easter kids craft we have are melted crayon Easter eggs. After hard boiling eggs, you can place them back in the egg crate and give your little one different crayons. When they draw on the egg, the wax will melt leaving a beautiful design. As an option, you can dye your eggs after. The after effect is striking, especially when you choose contrasting colors!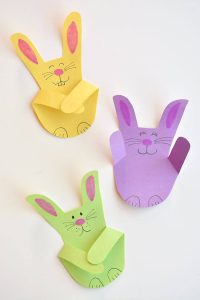 Next, is a very easy to do craft. Any age can make these cute hand print bunnies. Simply have them trace their hand or you can do it for them. After that, cut out the hand and cut off the middle finger. Fold down the two outside fingers and draw your bunny on the hand as you see in the picture above!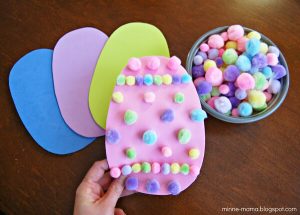 Here we have another egg craft! This craft is easier for younger ages and they can use their creativity for this one. Cut out large egg shaped cardboard, have glue and assorted pom poms on hand and let it rip! Your kids will love this opportunity to get creative. Optionally, you can paint the cardboard before gluing on the pom poms, but make sure the paint has time to dry all the way!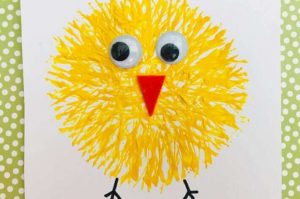 Another paint craft is here for Easter! This isn't the Easter bunny, but I'm sure your kids will love making a cute chick to put on the fridge. What you will need is paper, a plastic fork, yellow paint, googly eyes, orange felt or construction paper, and a dark colored marker. This craft is fun because the more imperfect you are with the paint, the cuter the chick will be!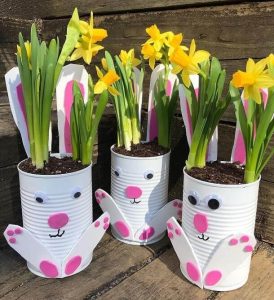 Lastly, this craft is great for the older kids. They can get in touch with their green thumb and plant their own flowers! To make it crafty, we are turning a tin can into a cute Easter bunny! You can pick out any flowers you choose and can make the bunny any color you want. If you want to turn this into a birthday idea for the kids, hire a helper to organize the crafts and help clean up! We also specialize in food services.
Party Host Helpers hopes you enjoy these fun Easter kids crafts this spring and we can't wait to help with the festivities. Party Host Helpers can be hired around any major city and we specialize in birthday parties, holiday parties, graduation parties, bridal showers, weddings, and much more. If you want any information on our party services or party staff, contact us at Party Host Helpers or call (844) 30-PARTY.