Holiday Cocktails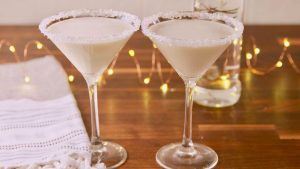 Christmas comes sooner each year, which means the holiday parties are near! We love hosting everything from cozy winter dinner parties to large company-wide events. One key to hosting a great event is serving food and drinks that will impress your guests. Now, read on for some of our favorite Christmas cocktails this year to serve up at your holiday parties!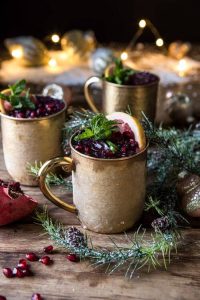 Here is a holiday twist on the Moscow Mule. The Spicy Pomegranate Moscow Mule adds a wonderful blend of pomegranate and jalapeno to the classic lime and ginger drink. Shake up a single serving for yourself, or try the recipe for a pitcher amount because the more, the merrier!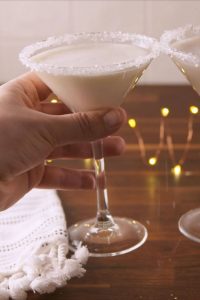 This beautiful drink tastes as good as it looks. The Snowflake Martini will make your winter nights a little less cold. It calls for White Chocolate Liqueur and Vanilla Vodka. To make it even sweeter, you can coat the rim in white sugar!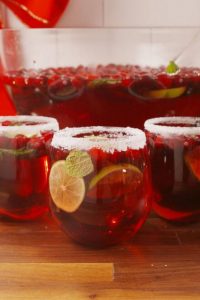 The holiday's call for Christmas parties. Fill up a punch bowl and let guests help themselves all night long! Jingle Juice is the perfect drink for a gathering of any sort. You can garnish with mint and a lime wedge.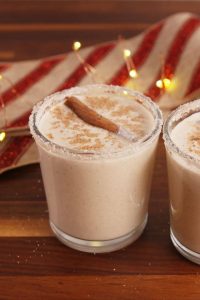 Picture this, it's Christmas day and the kids are playing with their new presents while the adults cozy up to a yummy Rumchata Eggnog. Eggnog is my favorite Christmas drink of all time. This recipe even teaches you how to make your very own! However, if you are low on time and ingredients, store bought eggnog will work just as well!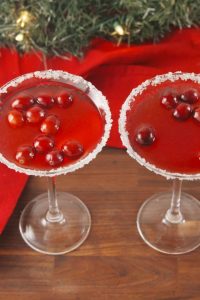 You will definitely feel jolly after sipping on this. These Santa Clausmopolitans are a tart Christmas drink that uses cranberries and lime, and are a great drink to unwind with when the holiday's get stressful. Have some friends over and try out a cocktail night! Everyone makes their own Christmas cocktail and you can even vote to see who has the best taste, and who has the best presentation.
We hope these cocktails are able to make Christmas time more fun. To make the holiday extra special, hire one of our staff to help out. It can be incredibly stressful hosting around Christmas time which is where we come in. Our Helpers can pour wine, pass out apps, and help manage cooking. Best of all, we can take care of the dishes!
Contact Party Host Helpers to get in touch with your local Regional Director who can match the right helpers to meet your needs so you can enjoy time with your family this holiday season. Contact us today!