Halloween Treats That You Can Send Into School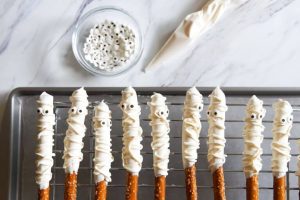 Trick or Treat! Children are getting excited for all the fall festivities. At school they may have costume parades or classroom parties. If their teacher asks for children to bring in treats, don't let them come empty-handed. Try creating any of these treats for a spooky school party and have kids get in the spirit of Halloween! Do not forget we have party services and event planning in case any of these treats spark a desire to have a Halloween party of your own.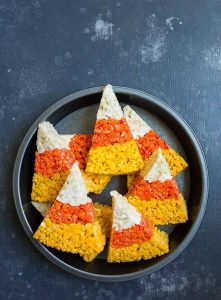 First, turn on your stove and try making these yummy candy corn rice krispie treats! This is a Halloween spin on childrens' favorite homemade snack. You just need rice krispies, marshmallows, and orange and yellow food coloring. After washing your hands, you can even have your kids help stir in the food coloring and shape the rice krispies into candy corn!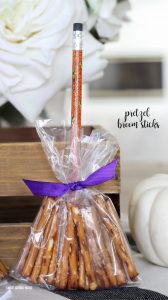 Next, a great food to bring in if you want to opt for a snack with less amounts of sugar are pretzels! Kids will have plenty of sugar after trick-or-treating so this is a great alternative. Have fun making these pretzel broomsticks for all the witches and warlocks. All you need are pencils, ribbon, clear bags, and pretzel sticks.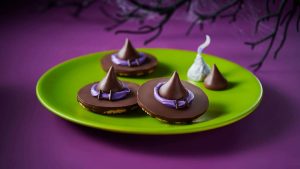 Now that the witches and warlocks have their broomsticks, they are going to need their hats! These treats will definitely be a hit at your child's Halloween party. You can use Hershey Kisses and fudge bottomed striped cookies to make these yummy Witch's Hat Cookies. These witch hat cookies would be a delicious and easy dessert for any fall party. If you need kitchen help with any main dishes or desserts, Party Host Helpers is available!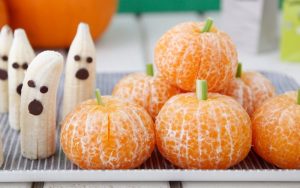 For a healthy option that is still delicious, your child can bring in tangerine pumpkins! Have the children enjoy nature's Halloween candy. For this super easy Halloween treat, you can use tangerines or clementines for the pumpkins and then celery for the pumpkin stalks. As always, make sure to wash your hands before preparing the food!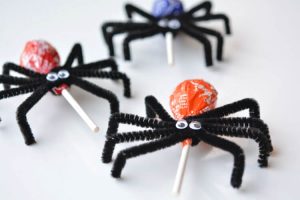 Lastly, here is a great zero-contact treat to bring in with your child. Spend time with your family making these DIY Lollipop Spiders! Choose your favorite lollipops and use black pipe cleaner along with googly eyes to make this easy, no-touch needed, treat for your child's classmates! They can either take them home after school or enjoy them during a fun Halloween movie during class.
These are just a few kid friendly snacks to have your child bring into school and share with friends for Halloween. If you are planning on recreating any snacks for a Halloween party of your own, consider hiring servers to allow the party to flow smoothly. Our party staff is prepared to make it a memorable event for you and your guests. Simply contact us at partyhosthelper.com or (844) 30-PARTY for your Halloween gathering. We are excited for the next season and hope you are too!