Cinco 

d

e Mayo Party Ideas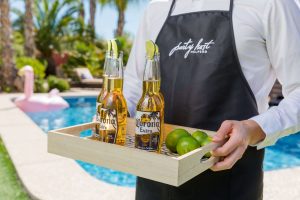 May will be here before you know it and that means so will Cinco de Mayo! Party Host Helpers is here to make sure that your Cinco de Mayo party is a success and to make sure you have the best ideas on how to throw the perfect fiesta! 
Frozen Margaritas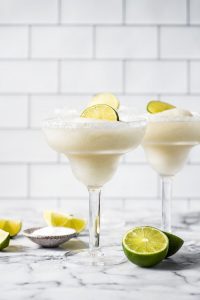 Margaritas are a huge part of Cinco de Mayo and your guests are sure to expect them at your party! To stand out, try this frozen margarita! This super simple recipe is the perfect addition to your party and you only need five simple ingredients! You will need one cup of tequila, one cup of lime juice, 1/2 cup of triple sec, 2 tablespoons of agave syrup (or other sweetener) and 6 cups of ice. Place all of this in a blender and blend! You can serve these in margarita glasses with a sugar rim and lime, your guests will love them!  
Layered Taco Dip Cups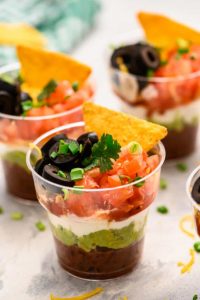 Tell your guests to arrive hungry. so that you can serve these fun appetizers. These layered taco dip cups are sure to get guests in the Cinco de Mayo spirit. You need refried beans, guacamole, sour cream, salsa, shredded cheddar cheese, diced tomatoes, diced green onions sliced black olives, and cilantro for garnish. To assemble this dish all you need to do is layer these ingredients (they are listed in order bottom to top) in in a small cup and provide tortilla chips. These are a great small appetizer, and they are mess free! 
Taco Bar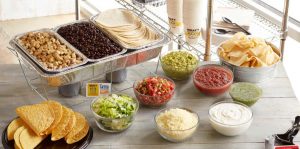 A must have at any Cinco de Mayo party is a taco bar! Taco bars are great to serve at your party because you can personalize it so there is something for everyone. You can add soft and hard shells, chicken, steak, or a vegan option, and as many toppings as you would like. Your guests will love that you are offering so many options and will enjoy getting to make their own tacos!  
Pool Noodle Cactus Kids Craft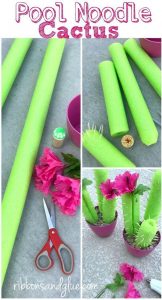 If there will be kids at your Cinco de Mayo party, it is a great idea to have a craft set up for them so that they can be busy while the adults are having fun. All you need are green pool noodles, tooth pics, fake flowers, a flowerpot, and rocks. Have the kids fill the flower post with the rocks, stick the toothpicks in the noodle to make the noodle resemble a cactus, and then put the noodle in the flowerpot. If they want, they can also add the fake flowers to the pot or on the noodle. This Craft is super easy and it will keep the kids at your party busy! 
Other Tips and Tricks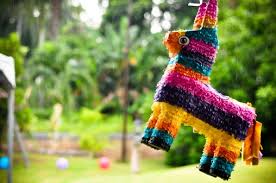 Here are some other tips that are sure to make it memorable!  
-Having a piñata: A piñata is fun for your party because all your guests will love competing to break it. This takes us all back to childhood birthday parties, have your guests wear a blindfold when they try and hit the piñata.  
-Music/dancing: Have upbeat music playing. This will keep your guests awake, excited and in a good mood. You can even dedicate a part of your party to a salsa dancing competition! Make sure to have prizes for the best dancers! 
-Flowers: Flowers can be a great way to spice up decorations at your party. Flowers are colorful and bright, just like the spirit of Cinco de Mayo.  
These Cinco de Mayo party ideas are guaranteed to make your party a huge success! Hire a Party Host Helper to set up, sever, pour drinks, and help clean up at your Cinco de Mayo party today! Hiring an event helper can help you host the best fiesta with everything from a great team of helpers to a bartender. We are here to help you with all of your party needs, and we adhere to Covid guidelines. For more information about party hosts for hire email us at parties@partyhosthelper.com or call us at (844) 30-PARTY. We are located all over the country in New York, San Francisco, Philadelphia, Denver, Florida, and so many more!