Kentucky Derby Party Ideas
May 1st is the Kentucky Derby and when everyone becomes a fan of horses, big hats, and mint juleps. It is more than just a horse race it is an American tradition and a reason to party! There is no wrong way to celebrate the Kentucky Derby but here at Party Host Helpers we can give you some ideas to throw an excellent Derby party.
Serve Mint Juleps at the bar!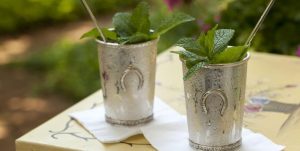 Photo from: https://www.townandcountrymag.com/leisure/drinks/how-to/g667/kentucky-derby-mint-julep-guide/
No Kentucky Derby Party is complete without mint juleps. They became the official drink of the Kentucky Derby in 1983. The official julep recipe consists of bourbon, crushed ice, sugar, water, and fresh mint. Here is a recipe that we love! https://www.foodnetwork.com/recipes/alton-brown/mint-julep-recipe-1945324
Hire one of our Party Host Helpers to mix these up so you can enjoy your guests!
Dress for the occasion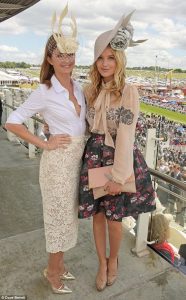 Photo from: https://www.mybucketlistevents.com/first-timers-guide-kentucky-derby-attire/
Big hats are the best part of the Kentucky Derby so be sure to make them a part of your viewing party. If there are kids at the party, you can turn this tradition into a craft. You can buy plain floppy straw hats and items to decorate them: pom poms, flowers, feathers, ribbons, glitter glue, paint – be creative! For the rest of the outfit, you can let vintage southern style inspire you. You can wear bow ties, bright colored dresses, floral prints, pastels, colorful blazers, suspenders, dress shoes, or heels. Remember to take tons of pictures of everyone! You can even have a hat contest!
Decorate with roses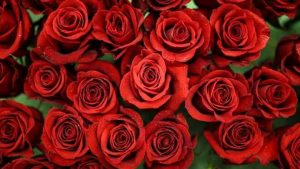 Photo from  https://www.courier-journal.com/story/entertainment/events/kentucky-derby/2016/05/07/making-garland-roses-derby-winner/84044700/
The red rose is the official flower of the Kentucky because of the tradition of draping roses onto the winning horse after each race. You can sprinkle roses throughout your party on the tables, scattering petals (they can be fake ones from the craft stores), incorporate edible roses or rose designs in your food, or buy tableware and napkins with roses on them.
Friendly betting and games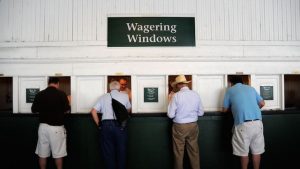 Photo from: https://www.wmar2news.com/news/kentucky-derby-a-rookies-guide-to-betting-on-horse-racing
One of the biggest parts of the Kentucky Derby is waging bets on different horses. Here are some different wagering party games you can play at your party from the official Kentucky Derby site: https://www.kentuckyderby.com/blog/wagering/wagering-party-games
You can also play some lawn games during the commercial breaks and get outside and play croquet, cornhole, badminton, or even giant Jenga.
Serve derby-licious food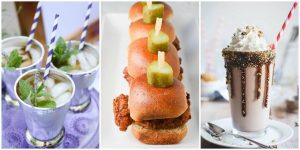 Photo from: https://www.countryliving.com/food-drinks/g2348/kentucky-derby-recipes/
No party is complete without the perfect spread of food and desserts! You can make classic southern dishes to serve like smoked grits or Pimento cheese dip. If you want some food inspiration click on this link here for 145 different Kentucky derby meal ideas: https://www.kentuckyderby.com/party/recipes/145-kentucky-derby-at-home-menu
For dessert, pies are the obvious choice. Bourbon infused desserts are also a Kentucky Derby staple like bourbon blondies, chocolate bourbon balls, bourbon cake, or bourbon cupcakes. These are all delicious and festive options your party guests will love.
Pintrest Board
Check out our pintrest board filled with even more Kentucky Derby food, games, outfits, and decoration ideas!  https://pin.it/1VzREmj
We hope these Kentucky Derby ideas help you plan your perfect party. We know it is hard to plan a party during these unprecedented times so here at Party Host Helpers, we are here to assist you with all of your needs. We always make sure to follow strict rules and regulations for the safety of our customers.
Our event staff is located nationwide, and we would love to help you throw your next party. If you want any information on our party services like private bartenders, private servers, catering staff, waiters, cocktail servers email us at parties@partyhosthelper.com or call us at (844)-30-PARTY.