Baby Shower Games In Person or on Zoom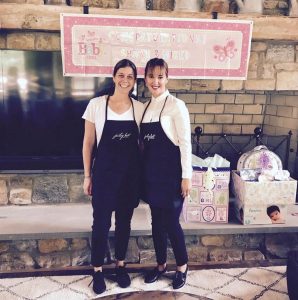 Although times are hard right now, there are still fun ways to celebrate! Baby showers are something that can be held either online or over zoom and they can be full of fun and celebration no matter how they are held. Here are some fun games for baby showers that can be played online, in person, or both!   
Guess the Baby Picture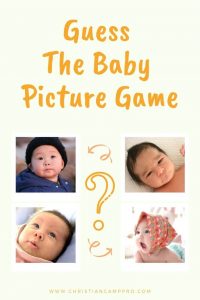 This game could be played online or in person. Everyone attending the party could bring a photo of themselves from when they were a baby. If playing in person, the guests would number the images and lay them out on a table. Other guests would make a numbered list and guess who the baby is. If playing on zoom, guests could change their profile picture to the baby picture, and their name to a number. The guests would look at the zoom screen and make their list. Whoever has the most correct answers at the end would receive a prize. This game is sure to have everyone getting to know each other better.   
  Don't Drop The (Egg) Baby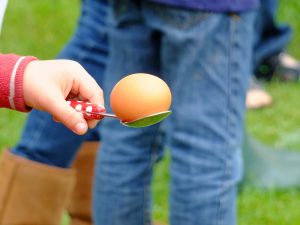 This game is perfect for an outdoor, Covid friendly baby shower! Although this game is meant for outdoors, it can also be played over zoom. For an in person baby shower, each guest would be given and egg and a spoon. Get creative and encourage guests to decorate their eggs. Place the egg on the spoon and have all the guests race across the backyard to see who can get to the finish line without dropping their egg baby. On zoom, guests would have to get their own egg and spoon, and decorate the egg is they choose. Instead of racing, guest would just carry their egg across the space they are in to see if they can get it safely across the room. Your guests will love this challenge whether its online or in person. 
  Baby Word Unscramble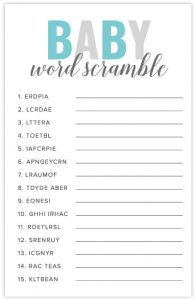 This is the perfect game for any type of baby shower and will keep your guests thinking. For this game you can print a list off of the internet or make your own! For an in person shower print out a list for each guest and see who can solve it the fastest. For an online shower email or text the list to your guests and have them print it, and just like the in person shower see who can fill it out the fastest. Your guests are sure to love this friendly competition, maybe a prize will even be included!     
Name the Baby Tune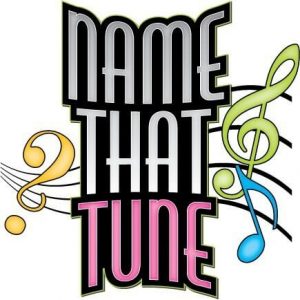 Looking for an easy game to plan that will be a fun competition? This game is perfect, it is a quick set up and will keep guests entertained for a long time. All you need to do is pick out your favorite songs from children's movies or TV shows. Play the song for a couple seconds and the first person to guess correctly wins that round. This game is also perfect for both in person and online showers. This could be good to play while getting ready for dessert to keep guests entertained. 
  Baby Shower Prizes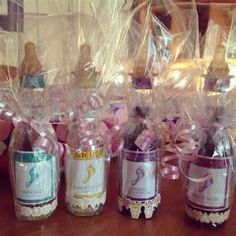 A great way to keep your guests engaged in the party games would be to have prizes for the winners! There are many different types of prizes, they can be simple or creative, but here are just a few ideas. A small wine bottle with a baby bottle top attached is the perfect prize. All you need is a small wine bottle and the top of a baby bottle. These can be tied in bags with ribbon for your guests. Who doesn't love candy? Another prize could be a baby bottle filled with candy. This is super simple but would look so good for the theme of the party, your guests would love it. Some other simple ideas that could be great prizes are candles and bath bombs. These can be purchased at most stores and are simple, but useful prizes. 
All of these games are great for any type of baby shower! Hire a Party Host Helper to help plan your baby shower today! Hiring an event helper can help you host the best baby shower with everything from a great catering staff to a bartender We are here to help you with all of your party needs, and we adhere to Covid guidelines. For more information about party hosts for hire email us at parties@partyhosthelper.com or call us at (844) 30-PARTY. We are located all over the country from New York to San Francisco.    
     .