5 Best Spring Picnic Ideas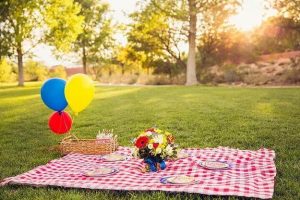 Party Host Helpers Spring Picnic Guide
Looking for a spring picnic guide? Follow along as Party Host Helpers provides you with the 5 best spring picnic ideas for your next picnic as spring approaches. Picnics are great to have for a romantic date, with your friends, family, and so much more.
You will want to remember to pack light, bring a cooler, and don't forget a blanket to sit on. Take in the scenery and enjoy some delicious food and beverages with the people you love spending time with the most. lastly, we are sure these five ideas will make you want to have a picnic as soon as the spring flowers bloom!
Location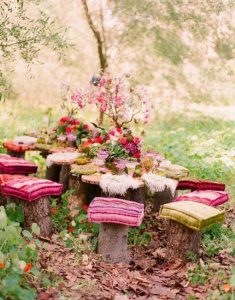 Picture from: https://www.lushome.com/colorful-summer-party-ideas-picnic-decorations/198875
Location is one of the most important aspects of having a perfect picnic. No matter where you live we recommend having your picnic at the nearest park, on a beach, or even in your backyard. Other locations could include alongside a scenic lake, in a zoo, within the woods, or a flower field. The options are endless!
Food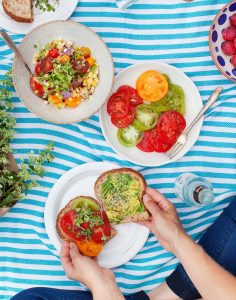 Picture and recipes from https://www.loveandlemons.com/picnic-food-ideas/
The food you're going to eat at the picnic is of course a personal preference, but if you're open to trying new things Party Host Helpers have a few great ideas we think you'd love. Caprese sandwiches, avocado toast, lettuce wraps, and pasta salads are just some of the few easy recipes that would go great with a picnic. Click on the link to get these recipes!
Beverages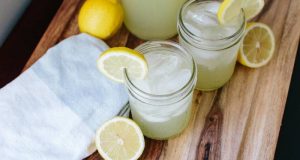 Picture and recipes from: https://www.southernkitchen.com/articles/drink/the-best-portable-beverages-for-picnics-and-other-lazy-outdoor-drinking-occassions
Thirst quenchers are essential at a picnic, so why not make them yourself! Homemade lemonade and iced tea are perfect for this occasion. If you're looking for alcoholic beverages, we recommend fresh mojitos, sangrias, or prosecco spritzers. Check out the link to get the recipes!
Decor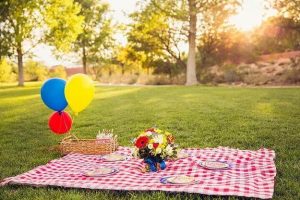 Picture from: https://www.lushome.com/colorful-summer-party-ideas-picnic-decorations/198875
If you're looking for romance and elegance, we recommend adding some decor into your picnic setup. Get a bouquet of fresh colorful flowers, a traditional picnic basket to store your items, and a comfy blanket to lay on. There are plenty of DIY crafts you can make to add some beautiful decor to the scenery of your picnic.
Entertainment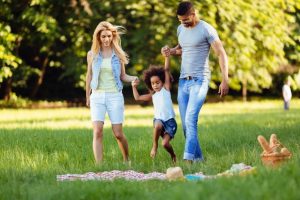 Picture from: https://activeforlife.com/6-ideas-for-an-active-picnic/
Picnics can be very beautiful and scenic but sometimes you need a little entertainment to pass the time and have some fun. Party Host Helpers recommends bringing a speaker to play your favorite jams, a deck of cards to play games, and a book as you enjoy the fresh air. You could also bring outdoor games such as Kan Jam, cornhole, ladder toss, and many more.
If you're looking for some local companies that are within Party Host Helpers' regional locations, here are a few resources that could help get your next picnic planned.
 Local Companies in Your Region
Boston: Unsure of where to have your picnic? The Boston Picnic Company serves multiple locations around Boston including New Hampshire,  North Shore, Cape Cod, and Newport. 
Chicago: Picnics in the Chi does picnics, but with a little twist. Have a luxurious movie night or stick to the more classic picnic scenery. 
Las Vegas: Las Vegas Picnic company provides an array of options based on your budget.  
New York City: Not sure what food to bring to your picnic? The Picnic Basket NYC provides everything you'll need in your basket. 
Philadelphia: Check out this company called The Picnic Palette that specializes in themed picnics that you can rent. This would be perfect for special events like birthdays, Valentine's Day, anniversaries, and more.
San Diego: Pop Up Picnic does everything for you including the food, ambiance, and cleanup. 
These are just some of the few locations Party Host Helpers covers across the nation. Also, if you are looking to set up a picnic within your city, give us a call for further assistance based on your picnic needs. 
We hope these spring picnic ideas helped you spark interest in having a picnic with guests and loved ones. Party Host Helpers are here to assist with your needs even during these challenging times of the COVID-19 pandemic.
We've ensured to follow strict rules and regulations for the safety of our customers. If you're looking to have a picnic and seeking some extra help, give us a call and we can assist you every step of the way!
Party Host Helpers are here to help you have the best picnic yet. We are a nationwide company located in almost every major city around the United States. For more information about our services please email parties@partyhosthelper.com or call us at (844)-30-PARTY today!