Fall Block Party Appetizer Recipes
Wondering what appetizers to make for your block party this fall? Well, you're in the right place! Here I listed my go-to, easy-to-make appetizers! These fall appetizers are the perfect way to kick off the season! From pull-apart pigs in a blanket to quick and easy fall party dips, there are plenty of delicious appetizers to choose from. 
Pull-Apart Pigs In A Blanket
https://www.delish.com/cooking/recipe-ideas/a23460044/pull-apart-pigs-in-a-blanket-recipe/ 
The first recipe can be something so simple, yet so delicious! Everybody enjoys pigs in a blanket! Who wouldn't enjoy the pull-apart version? Stuff your hot dogs into some pizza dough, which could be homemade or store-bought. Arrange them into a pan as shown below. This will make an easy, messless, appetizer for you and your guest to enjoy.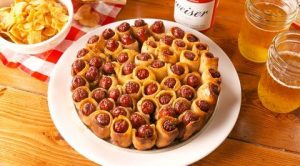 Pull-Apart Garlic Bread Pizza Dip
https://www.delish.com/cooking/recipe-ideas/a22708486/pull-apart-garlic-bread-pizza-dip-recipe/ 
Next, we have the perfect Pull-Apart Garlic Bread Pizza Dip. Who does not enjoy garlic bread and pizza? This dish combines the two and makes a great pull-apart appetizer. Make this for your fall parties and it will be gone in 10 seconds —we can almost guarantee it.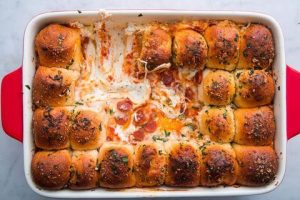 Caramel Apple Nachos
https://www.delish.com/cooking/recipe-ideas/g3496/fall-appetizers/?slide=35 
Here we take a fall-time favorite, caramel apples, and make a healthy twist on nachos! There is no occasion that cannot be improved by nachos. This nacho recipe is one that is very simple to make and tastes delicious. If you're searching for easy fall appetizer ideas, this one should be included!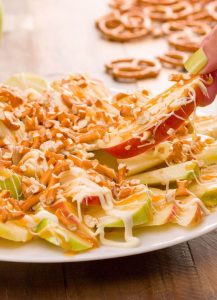 Jalapeno Popper Pumpkin Cheese Ball 
https://www.crazyforcookiesandmore.com/2016/10/jalapeno-popper-pumpkin-cheese-ball.html 
Lastly, we have a festive dish to share at your party. This recipe covers the symbol of fall time and places it at the center of your dish. Surrounded by crackers for dipping, this dish is something very simplistic yet fun.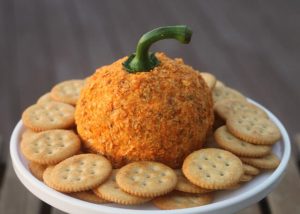 Party Host Helpers are here to help you with the best fall block party appetizer recipes for your family and friends. We are a nationwide company located in almost every major city around the United States. For more information about our services please email parties@partyhosthelper.com or call us at (844)-30-PARTY