Halloween-Themed Cocktail Ideas 
There's nothing like a spooky Halloween cocktail. Whether you're having a fun Halloween dinner get-together with friends and family or going crazy with a Halloween party, these cocktails are just what you need. I have gathered 4 different Halloween-themed cocktail ideas that many will enjoy, especially if you're into pumpkin spices or berry fruity flavors. 
Haunted Pumpkin Patch Margarita
https://www.halfbakedharvest.com/pumpkin-patch-margarita/ 
This sweet, and spicy Haunted Pumpkin Patch Margarita is full of flavor. Sweet spiced pumpkin butter, apple cider, tequila, and orange liquor are all mixed together to create a fall-inspired pumpkin margarita. This sweet and spiced pumpkin margarita is everything Halloween and is even perfect for a cozy fall night or the perfect drink for a Thanksgiving get-together. This is a fun and simple tequila margarita that everyone will love!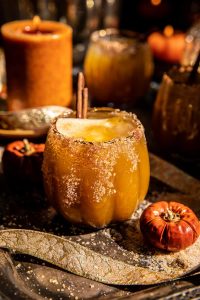 Pumpkin Martini
https://www.acouplecooks.com/pumpkin-martini/ 
What's better for Halloween than a Pumpkin Martini? This drink is so creamy and cozy that it will make you and your guests want more. This is the perfect cocktail for impressing your friends at Halloween or even Thanksgiving. This Pumpkin Martini recipe is a lovely fall cocktail. You can never go wrong with pumpkin!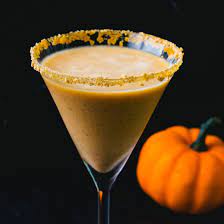 Vampire's Kiss Cocktail
https://www.acouplecooks.com/vampires-kiss-cocktail/ 
Here is another tasty Halloween drink! Try this spooky Vampire's Kiss Cocktail! This beautiful blood-red drink is a berry-flavored vodka martini. If you enjoy fruity berry-flavored drinks, you are going to love this one! Adding a cube of dry ice to this cocktail will make it look amazing and give it a spooky twist. The dry ice will make it bubble and boil with a steady stream of smoke. This Vampire's Kiss Cocktail is great for Halloween!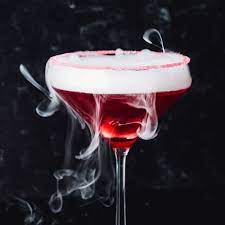 Spiked Jolly Ranchers Punch
https://sugarandcharm.com/spiked-jolly-rancher-punch 
What's Halloween without a fun, easy Halloween punch? A festive punch is a fantastic option for parties. This spiked Jolly Rancher punch is perfect for a fall party, Halloween movie night, or even a friendly get-together! It is full of tasty, fruity flavors that everyone enjoys and is super easy to make. If you love Jolly Ranchers, you will not be disappointed.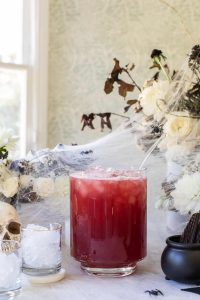 Party Host Helpers are here to help you make the best festive cocktails! We are a nationwide company located in almost every major city around the United States. For more information about our services please email parties@partyhosthelper.com or call us at (844)-30-PARTY today!