Easy Fall Dinner Ideas
If you are wondering what fall dinner recipes to make on a chilly night inside, then you came to the right place! When it comes to fall dinners, it's all about comforting food that will make you feel warm and cozy. I have gathered 5 of the best easy-to-make fall dinner ideas that your whole family will enjoy. These include a tasty pasta dish, delicious dinner pies, and of course I could not leave out this easy, flavorful tomato soup and grilled cheese recipe. 
Skillet Shepherd's Pie
Skillet shepherd's pie is a scrumptious traditional comfort food. It consists of flavourful beef and fluffy potatoes. This meal will certainly warm you up. This skillet shepherd's pie is a meat pie that is baked and made with tasty ingredients. It has a layer of sautéed ground beef and vegetables. Can't forget about the warm and fluffy garlic cheddar mashed potatoes on top. The best part isn't just how amazing this dish tastes but also how easy it is to make it. Put everything in a skillet and pop it in the oven. This shepherd's pie is a healthy and easy meal the whole family will love.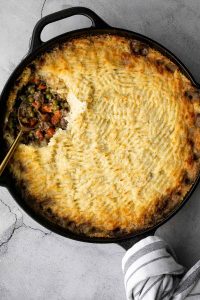 Easy, Creamy Beef and Shells
You can't go wrong with this tasty pasta dish! A dinner that will make your weeknights a breeze! This dish is perfect for anyone that loves cream, cheese, beef, and pasta. If you grew up loving Hamburger Helper, there is no doubt you'll love this easy recipe. All you have to do is season and cook ground beef; add pasta shells, beef broth, and tomato sauce. Then finish it off with a little bit of cream and of course, you can't forget a lot of cheese!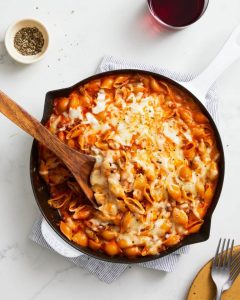 Stuffed Peppers
These stuffed peppers are so classic and super simple to make. They are filled with ground beef, rice, tomato sauce, and cheese. Not only is this dish easy to make but it is also delicious and full of flavor. Your family will not be disappointed!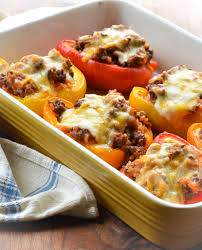 Chicken Pot Pie
Now, this is truly my favorite comfort food ever! Chicken pot pie consists of a flaky, buttery crust with chopped chicken, onions, carrots, and peas in a tasteful creamy sauce. While this dish can easily be found pre-made in almost any grocery store, I believe homemade always tastes better. To make this dish a lot easier, consider making certain parts of the pie in advance. This will make the whole process much smoother. You can even make this dish in advance and simply heat it up when you're ready to enjoy it!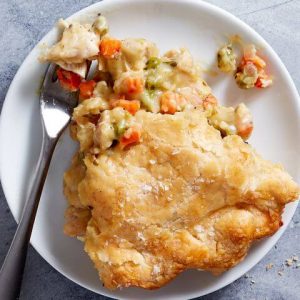 Creamy Tomato Basil Soup with Grilled Cheese Bites
Who doesn't love a warm tomato soup with grilled cheese to dunk into it? I absolutely love a tasty soup, especially on a cold fall day! This tomato basil soup with grilled cheese is just one of those meals that make you want to lay on a couch cozied up in a blanket. This is a super quick and easy recipe many will love!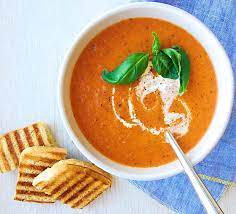 Party Host Helpers are here to help you make the best fall dinner ideas for your family and friends. We are a nationwide company located in almost every major city around the United States. For more information about our services please email parties@partyhosthelper.com or call us at (844)-30-PARTY today!