D.C. Party Host Helper Experience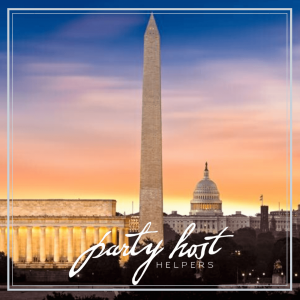 This past weekend I had the honor to work as a Party Host Helper in the Downtown D.C. area for a lovely host, Rebecca. As a Party Host Helper, our duty is to take care of the service-related details so you can join your guests. In addition, we also focus on following safety guidelines and policies during COVID-19. We make sure our helpers are fully masked and wear gloves around the clock.
Rebecca requested a roof top dinner party in her new apartment to welcome 15 of her guests. With not much furniture to work with, I was happy to provide a table and chair rental company to Rebecca prior to the start of the party. We were able to accommodate bartending services to compliment the guests with a happy hour before the dinner services.
Rebecca requested a specific type of champagne and wine to be offered for happy hour. As her Party Host Helper, I was happy to make this happen! The overall theme of Rebecca's dinner party was to decorate with gold and white balloons. The party decorations were entirely handled by our team of Party Host Helpers. With the explanation of Rebecca's overall theme, our event Helpers were able to suggest party decorating ideas and entertainment for the guests to enjoy.
Party Set Up Crew
A few days leading up to Rebecca's dinner party, we were able to go over all services needed, our hosts expectations and complete a pre-set up of decoration and catering equipment. When the day of Rebecca's dinner housewarming party finally arrived, our Party Host Helpers team arrived with enthusiasm and excitement.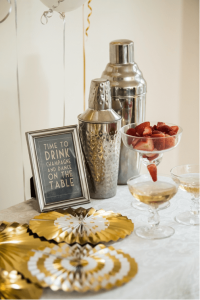 Our team was able to quickly and efficiently set up prior to the party before the guests arrived. Glasses of champagne and wine were poured on the rooftop deck in honor of Rebecca's new apartment in downtown D.C.
We were able to provide a bar with a full range of alcoholic beverages and bartending services while staying safe under the city's guidelines. Guests began to arrive; all equipped with masks and quickly joined the bar we provided for happy hour. Rebecca was able to greet all of her guests without the tasks and duties of hosting a party. Our team took away the inconvenience of entertaining and provided a lovely event for all.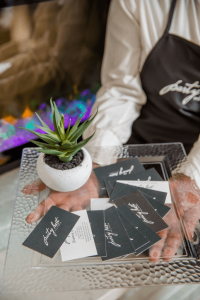 Once happy hour was over, the guests acknowledged the decorations and Rebecca made a toast. Dinner was ready to be served and the guests made it over to the set up rental chairs and tables to match the industrial theme of her roof top deck. A guest even commented, "Did you already get furniture for your rooftop? I couldn't believe how great the tables and chairs looked!"
Rebecca grinned in excitement over the convenience of her Party Host Helpers! Dinner was served hot and ready with both vegetarian and gluten free options. Rebecca requested a dinner menu with two selections, allowing our guests to decide what they wanted for supper when RSVPing.
Be a Guest at Your Own Party
The evening was smooth sailing and the guests enjoyed their rooftop view over D.C. beautiful night lights. The guests were able to welcome Rebecca into her new home without the labor of cooking, cleaning and set up. Once the party guests were ready to leave, we ordered transportation services for any guests in need to ensure their travel home safe. Rebecca thanked us for such a successful gathering and we were happy to clean up and pack the rental equipment quickly.
If you are on the east coast or west coast, we have many different locations nationwide for all your upcoming events. Contact us today at (844) 30-PARTY to celebrate your next big plans!