Baltimore Party Host Helper Experience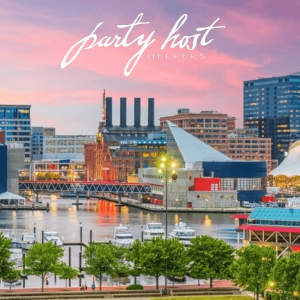 Last Saturday, I was able to help throw a 6th Birthday Party Extravaganza for Ellie in the outskirts of Baltimore by Inner Harbor. This Birthday Party Extravaganza for Ellie was held outside in West Shore Park. They had party tent rentals, a karaoke rental, kids entertainers and even a soft service machine rental!
While Ellie's Birthday theme initially involved unicorns, her parents matured the theme by introducing a crab and corn picnic feast! We were able to follow COVID-19 guidelines by ensuring all Party Host Helpers were equipped with a mask and gloves. We gently reminded guests to wear their masks throughout the night.
Ellie's parents customized a unicorn themed cake from a local baker downtown. We were happy to pick it up on the way to take away the stress from Mr. and Mrs. Ellerstein. I was fully prepared to take this obstacle head on to incorporate all of the party details and rentals to help Ellie's 6th birthday achieve satisfaction!
Party Host Helpers: Planning Experts
She needed a bit of planning help so my team leader at Party Host Helpers enlisted me to assist with some details. First, I was able to contact caterers to provide the blue point crabs for lunch, along with sides of corn, fries and chips.  As a kid's option we were able to provide hotdogs and hamburgers on the grill. Along with the karaoke rental I brainstormed a few more fun ideas for this party and immediately thought of outdoor party games such as cornhole and Kam Jam!
These games provided entertainment for the parents and older children at the party. Since West Shore Park does not provide any public park benches or picnic tables, this was not a problem! With the help of Party Host Helpers, we were able to provide table rental with chairs. The tents were also not a problem! Mr. and Mrs. Ellerstein requested white tents with pink and purple balloons.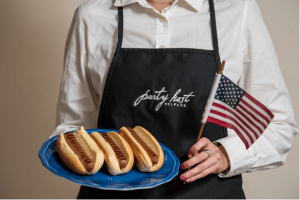 To satisfy Ellie's unicorn theme, we were able to find a large unicorn balloon to add into the party decorations! A few days prior to the party, my team of Party Host Helpers came and collected the karaoke equipment and tested the soft serve ice-cream machine prior to party time. As the day of the party finally arrived, family and friends gathered around the tables and admired the party decorations and Ellie's unicorn theme!
Ellie had the biggest smile on her face as we noticed the life-sized unicorn balloon. It matched her dress and tutu making it all the cuter! The music started playing and our team of Party Host Helpers got to work as we prepared the picnic feast for Ellie's 6th birthday.
Friends and family were spread out across the park enjoying the outdoor games provided. The children friendly options for lunch were perfect while the parents absolutely LOVED the blue point crabs!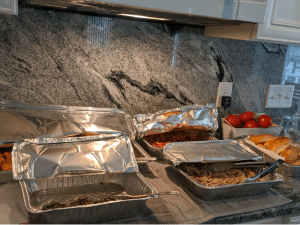 Be a Guest at Your Own Party!
The soft serve ice-cream machine was a hit. The children could not stop making cones! Mr. and Mrs. Ellerstein were able to kick back and enjoy their guests without worrying about a thing. The guests were able to sing along to karaoke and enjoy each other's company on a beautiful sunny day. After the party wrapped up, Mr. and Mrs. Ellerstein were free to leave with no clean up at all. Our team of Party Host Helpers were able to set up, clean up and call it a day for Ellie's 6th Birthday Extravaganza!
Now that you're ready for your next party, don't forget to hire a Party Host Helper to serve your guests (and you!) so you can sit back and enjoy the great time you worked hard to make happen!