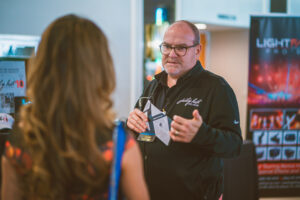 Party Host Helpers own Eric Allen named a GMFEA Board Director and Annual Conference Member!
We are delighted to announce that our Regional Director, Eric Allen, has been appointed as a Board Director and Annual Conference Member of the Greater Miami Festivals & Events Association (GMFEA).
GMFEA is a 501c organization that supports the professional development.  They are proud to enhance the success and sustain a year-round promotion of festivals and events in South Florida. GMFEA beams about the role it plays in providing valuable resources and support to its member organizations.
Eric has a wealth of experience and expertise in the festivals and events industry.  He is passionate about creating memorable experiences for our clients and guests.
As a Board Director and Annual Conference Member of GMFEA, Eric will be involved in shaping the vision, mission and goals of the organization.  In addition, he will also play a role in planning and executing the annual conference.   This event is the largest local festival and event conference in the nation.
We are very proud of Eric's achievement and we look forward to supporting him in his new role. We are confident that he will make a positive impact on GMFEA and the festivals and events community in South Florida.
Please join us in congratulating Eric on his appointment and wishing him all the best!