5 Kids Summer Crafts
The countdown until the first official day of summer is here! We are less than a month away from flip flops, sunscreen, and bug spray. Summer also means that school is out, and your kids are stuck at home. Here at Party Host Helpers, we are here to help save your children from boredom this summer. You don't just need a pool to have fun this summer! Here are five different crafts that your kids will love this summer.
DIY Scented Rainbow Bubbles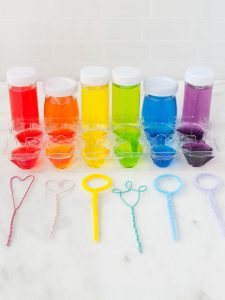 Photo from handmadecharlotte.com
Who doesn't love bubbles? The answer is: no one. With this summer craft you can elevate your bubble game for your kids! All you need is some essential oils and some food dye to give your bubbles a makeover. Your kids can pick out which scents they want and the colors they like. This will teach them about color mixing and different scents. You can also try to make the color match the scent so for example the yellow bubbles can be lemon scented. You can find the steps and materials here: https://www.handmadecharlotte.com/diy-scented-rainbow-bubbles/
Pool Noodle Monsters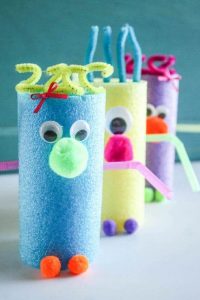 Photo from goodhousekeeping.com
You don't necessarily need a pool to use pool noodles. You can take or buy some noodles and transform them into friendly monsters. Kids can use anything from googly eyes, to pipe cleaners, ribbon, or even pom poms. You can find the monster tutorial here: https://www.createcraftlove.com/pool-noodle-monsters/
They are adorable, easy, and fun to make.
DIY Sidewalk Chalk Pops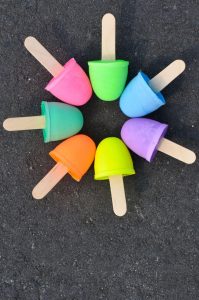 Photo from goodhousekeeping.com
When children think of summer two things will always come to mind: popsicles and sidewalk chalk. These chalk pops are fun to make and even more fun to use. An adult will need to help make the chalk pops in the beginning. Once the chalk is made, the kids won't need any supervision. You can find the materials and step by step instructions for the chalk pops here: https://projectnursery.com/2015/05/diy-sidewalk-chalk-pops/#_a5y_p=5245552
Seashell Frame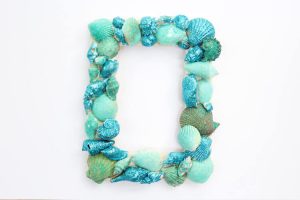 Photo from onelittleproject.com
Are you planning on going to the beach this summer? If so, these glitter seashell frames are a perfect craft for your kids to do while you are down the shore. I know kids will be collecting seashells while they are on the beach, so why not make a craft out of them. With the collected shells children can paint them or cover them in glitter. Then after the shells are covered all you have to do is glue it to the frame! Even if you don't go down the shore and your children aren't able to collect shells, you can still buy some from a craft store. You can find the materials and directions here: https://onelittleproject.com/glitter-sea-shell-picture-frame/
Cactus Pet Rocks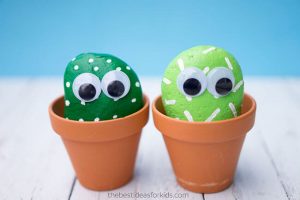 Photo from thebestideasforkids.com
Cacti can be a little dangerous for little kids' hands, so these cactus pet rocks are the perfect solution. All kids have to do is go outside and collect some small rocks! The materials needed are google eyes, paint, and terra cotta pots. Kids can use their creativity to paint their cacti any way they want to! The directions and materials can be found here: https://www.thebestideasforkids.com/pet-cactus-rocks/
These different summer craft ideas are sure to knock your kids socks off. In the summer it can be hard to keep your children occupied especially if you are working. At Party Host Helpers we are here to help you come up with unique crafts and ideas when the summertime boredom hits. Party Host Helpers are here to assist you with all of your needs especially during these unprecedented times. We know COVID 19 can make it hard to plan different events like parties, playdates for children, or even weddings.
We are a nationwide company located in many different major cities all across the United States. If you want any information on our party services like private bartenders, private servers, catering staff, waiters, cocktail servers email us at parties@partyhosthelper.com or call us at (844)-30-PARTY.