40th Birthday Party Ideas for Men and Women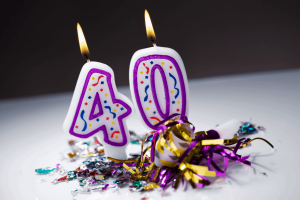 Picture from: https://partyplanningsolutions.com/40th-birthday-ideas/40th-birthday-wishes
They say that 40 is the new 30, so why not throw a party to celebrate the big 4-0. Turning 40 means the start of a new decade to your life and appreciating the milestones and accomplishments you've achieved so far. These birthday party ideas work great for men and women, so hire a babysitter and put on your party pants while Party Host Helpers takes care of the rest! 
Have a Costume Themed Party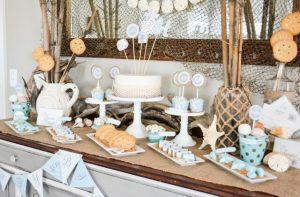 Picture from: https://andersruff.com/custom-printable-parties/parties/birthday-parties/beach-birthday-party/
Having a costume-themed party is a great choice for a 40th birthday celebration. You can have it at any of your favorite venues or your own home. Throw it back to the era you were born in or choose a unique theme. Some great ideas to consider are Great Gatsby, disco, or beach-themed.
Take a "Friends Only" Trip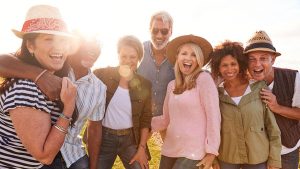 Picture from: https://www.virtuoso.com/travel/articles/travel-with-friends-9-tips-terrific-trip
Looking for a getaway with you and some of your closest friends? There's no better way to celebrate a 40th birthday than to book a hotel or Airbnb in your favorite location and enjoy some cocktails on the beach or beers in the woods. Don't fret- Party Host Helpers are located nationwide to help you escape life for a bit and relax on this trip!
Host a Dinner Gathering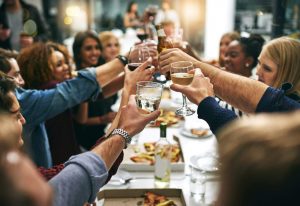 Picture from: https://www.allrecipes.com/article/dinner-party-ideas/
If you're looking for a more intimate party, host a dinner gathering at your home or your favorite restaurant. Hire a private chef and enjoy some great food. Our Helpers are here for any catering assistance along with setup, cleanup, serving, bartending, and more.
Rent Out a Roller-Skating Rink or Bowling Alley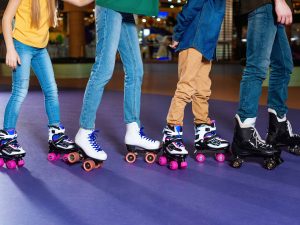 Picture from: https://www.timeout.com/usa/news/behold-america-the-summer-of-the-roller-skate-is-upon-us-071720
These classic ideas are fun and interactive. Rent out a roller-skating rink for a few hours or go bowling with your friends and family. If you decide to go bowling divide your friends into teams for some competition, or use the bumpers if you're just looking for some fun. Regardless of which activity you choose, we are sure you'll have a blast.
 Tour a Brewery or Winery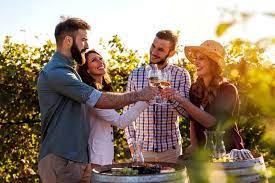 Picture from:  https://www.dreamstime.com/happy-friends-having-fun-drinking-wine-winery-vineyard-friendship-concept-young-people-enjoying-harvest-time-together-image128153680#res26615551
Are you a beer or wine fanatic? Going to your nearest brewery or winery is a great way to celebrate a 40th birthday party. Enjoy some samples, flights, and tastings while learning how these beverages are made from their roots!
While there are many unique ways to celebrate a 40th birthday, we hope these ideas helped toward your special day. Party Host Helpers loves assisting their customers and are here for any of your event needs. We have been following cautious procedures throughout the pandemic to ensure our customers can celebrate safely. If you're looking for some extra help during your next party or event hire Party Host Helpers today!
Party Host Helpers have staffing nationwide. Our major cities include New York City, Boston, Philadelphia, Denver, Los Angeles, Sarasota, Austin, and more! For more information on our party servers and private bartenders, email us at parties@partyhosthelper.com or call us at (844) 30-PARTY.