Why Hire Party Host Helpers

Why hire Party Host Helpers? Our team has  been your trusted party help for seven years now! We are so grateful to be part of the wonderful moments that make up our client's lives and to give them a chance to be a guest at their own party.
It all started when our CEO, Renee Patrone Rhinehart, was getting inquiries from her Events by Renee clients who wanted an extra hand at their parties. Renee, a talented wedding and event planner, often needed a bartender, event assistant, or server to help out that day or at smaller events. With this idea, Renee started her second business, Party Host Helpers, which is now nationwide and part of over 1,000 events a year. 
As we celebrate our 7th year in business, we're highlighting some reasons why our clients love working with our experienced event staff.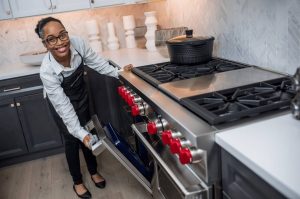 1. "We felt we could easily trust them and they were great about jumping right in and owning their tasks! My team [Kendra Scott] asked if we could always have Party Host Helpers at our events. Thanks everyone for being such an incredible help to our store and making our event a success!" -Taylor
2. "We had the best experience with Party Host Helpers for our son's First Communion. We had a small family gathering in our home and they came while we were at church and our server took care of everything…Five Star service from booking to arrival!" – Rebecca 
3."I am never hosting another party without hiring Party Host Helpers. They are professional, experienced, and super friendly. My New Years' Eve helper took care of the food prep, cleanup, and everything in-between! Worth every penny!!!"- Shawna
4. "Thank You Party Host Helpers!! I have worked with this group at a couple of events and they have always been great. My bartender took professional control over the situation and helped expedite an upscale evening. I recommend their services for any function, a real Class-Act!" -Kens Cuisine  
5."Great people and service!" -Lyuba
If you need servers, bartenders, or other event staff, contact us today. We look forward to being part of your next event and all of your champagne moments. Party Host Helpers specializes in servers, bartenders, general staff, coat check, registration, set up, and clean up for all sorts of parties both in your home, office or at a venue.
Our Regional Directors can personally match you with the right Helpers for your needs.
We are a women-led company and are nationwide located in Charlotte, OBX, Richmond, New York, Denver, Los Angeles, Philadelphia, Boston, and many other cities. Reach out to us today with any questions!