Birthday Desserts and Tips from Party Host Helpers!

Looking to celebrate a loved one's birthday? We've come up with some of our favorite birthday dessert ideas you can make at home to impress them and show them your love! Plus, there's plenty of event tips below for throwing an at-home birthday from the experts at Party Host Helpers.

If your little ones love unicorns (and who doesn't?) check out this DIY unicorn cake to make at home. The best part is the horn is an ice cream cone and the face is adorable, yet simple to create!
These shark pudding cups are ideal for a summer birthday or for the child that can't stop listening to Baby Shark! Parents, we know you have it stuck in your head! These are super easy to create, you can even have older kids help assemble them.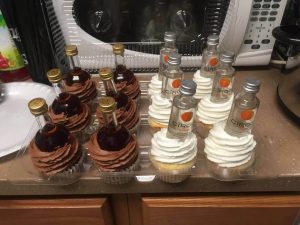 The best part of these alcohol cupcakes is you can use your favorite cocktail recipe and simply top it with the mini bottles. So make it simple and use a box, or go all out! Either way, they are a hit. Looking for a bartender to serve the rest of the drinks? Our party staff can bartend any party from your 21st to 100th!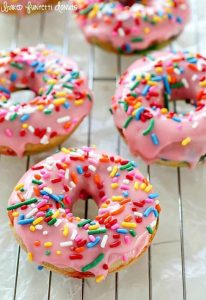 Wondering what the latest trend in desserts is? It's donuts! From decked-out donut walls to enjoying one or two with a friend, these tasty treats are great as desserts or for a breakfast treat. These funfetti donuts are festive and oh-so-good!
Birthday  Dessert Tips:
*Decorate the night before so your loved one can wake up feelin' the love!
*Wrap gifts in advance to avoid scrambling the day of.
*Picking our dessert and not sure their favorite flavor? Ask! That way they get what they want and they will be so grateful you care. This goes for gifts too!
*Making baked goods? Be sure to leave enough time for it to cool before decorating so the icing doesn't melt. This can mean baking the night before and decorating the day of.
*Hire Party Host Helpers to take care of all the details!
If you're looking to host an event, Party Host Helpers has event staff to help so you can be a guest in your own home. Contact us today to get in touch with your local Regional Director. We have bartenders, servers, and party staff for hire in your area.
Our event staff is located in San Diego, Dallas, Los Angeles, Richmond, New York, Philly, Chicago, Virginia Beach, OBX, Austin, Boston, Phoenix, and many other cities nationwide. Our staff are background checked and have deep party experience so your next party will be a success!