The Best July 4th Party Recipes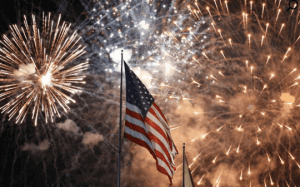 July 4th is right around the corner, which means party prep is underway! While everyone loves a classic hotdog or burger, try something new! Here are a few of our favorite and simple recipes – most can even be prepared the day or two before. For other party tips, be sure to check out our segment on WFMZ (Click here to view the full video). We want to make sure that your Fourth of July party is seamless, so you don't miss the fireworks!
Cocktails
Watermelon Juice: This is a refreshing, unexpected option that can be prepared with or without alcohol! Find the recipe here.
Sangria: Always a crowd pleaser, and can be made ahead of time in larger batches. We love this recipe because you can use whatever summer fruit you like. Find the recipe here.
Appetizers
Spicy Banana Salsa: Classic salsa recipe with a twist! This salsa is salty, sweet and a bit spicy all in one! Click here to view the recipe.
Sun Dried Tomato and Chickpea dip: You can put pita chips, pretzels, or veggies on the side for this one! Great to be prepped ahead of time. Click here to view recipe.
Main Course
Grilled Chicken Fajita Platter: Simple to prepare, and loved by everyone. Try putting together a create-your-own fajita bar. Check out this recipe for a classic party dish.
Spicy Cornbread Salad: Something a bit different, but simple to make and delicious! A recipe that can be made ahead of time. Click here to check it out.
Smoky Bourbon Baked Beans: What is Fourth of July without some delicious baked beans? Perfect on the side of any meal. We love this recipe.
Dessert
Chocolate Banana Pudding: This cold banana pudding will be a crowd pleaser – perfect in this summer heat! Check out the recipe here.
Pineapple Strawberry Rhubarb Crumble: Super easy to prepare, and all you had to do is reheat for 20 minutes, throw some ice cream on top, and voila! Find the recipe here.
Now that your ready for you next party, don't forget to hire a Party Host Helper to serve your guests (and you!) so you can sit back and enjoy the great time you worked hard to make happen!