Seven Great Outdoor Décor Ideas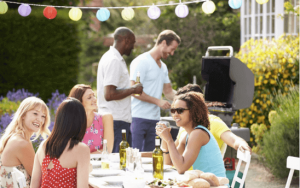 One of the best parts of summer is outdoor entertaining. Whether you are planning a family-friendly barbecue or a sophisticated cocktail party on your patio, décor can take your outdoor party to the next level. Here are some of our favorite items that will help make your backyard perfect for any type of party!
Lanterns
Lanterns can be placed almost anywhere – add them as an accent to any table or hang them from rods around the yard. Best of all, you can find them for cheap at your local arts and craft store such as Michaels, or AC Moore.
Chalk Boards
Chalk Boards or Picture Frames are a cute and creative way to label food and drink stations for guests to reference. Have a signature cocktail? Write the name and ingredients on a chalk board, and place on drink table. Guests will love the added touch!
Flower Pots and Buckets
Flower pots or tin buckets are great for holding utensils, condiments, or bug spray and sunscreen. Place a few around on tables, for easy access. If you don't have either sitting around the house, these can be found at any local store!
Mason Jars
Mason Jars can be used for so many things. Fill them with some flowers for a pretty centerpiece, add some water and a floating candle for extra light, or use as drinking glasses for guests. The options are endless, and they are extremely inexpensive to buy!
String Lights
Lights are not just for Christmas time! They are perfect hanging from or around trees, across your patio, from your fence, etc. You can get these from Costco or Amazon, and they bring your party décor to the next level.
Tiki Torches
Tiki torches are great for any party because they add extra lighting, but also double as insect repellent. Place some around your patio area, and throughout the yard so your guests can wander around. You will want to use these all summer long!
Blankets
Forget renting additional chairs, and throw some blankets and pillows on the grass for extra seating. It will allow guests to move from the main dining area, and mingle around the yard.
Now that your ready for you next party, don't forget to hire a Party Host Helper to serve your guests (and you!) so you can sit back and enjoy the great time you worked hard to make happen!