Party Host Helpers Favorite Event Professionals in Arizona!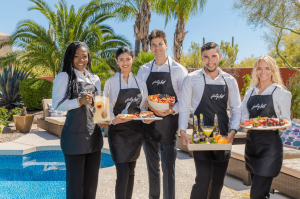 When it comes to your wedding, Party Host Helpers knows you want experienced and talented event professionals. We pride ourselves on having servers, bartenders, and general event staff who will make your wedding day, engagement party, and bachelorette/bachelor party memorable.
 We are so lucky to be able to work with other fantastic wedding professionals in Arizona, so we are highlighting some of our favorites.

Before the big day comes the bachelor/bachelorette party! GAT is a fabulous company that is your concierge around Arizona. GAT is run by locals so you can see the city through their eyes and essentially no further research is needed on your end! Just let them know some of the fun activities you would like to do and watch the exciting recommendations roll in!

Simply Celeste's catering creates delicious food for any special event, including weddings. We love working with them because they are true professionals and guests are always impressed with their food!

Charcuterie is always a hit at events because there is something for everyone! From fruit and veggies to cheese and meats, you really can have it all! Harmony boards not only use high-quality ingredients, but they excel at presentation. Grab one for your engagement party or bridal shower!

When it comes to events, this group really are genies! They specialize in bridal showers, engagement parties, and weddings. With so many details involved in event planning, you can count on the Event Genies to assist you. 
When hosting your wedding (and the events that come with it) in Arizona, we hope that you will consider working with the experienced and wonderful professionals we suggested. If you need any event staff for your wedding or bachelorette party, please reach out to Party Host Helpers and we will directly connect you with your Regional Director who can answer any questions you may have.
If you're looking to host an event, Party Host Helpers has event staff to help so you can be a guest in your own home. Contact us today to get in touch with your local Regional Director. We have bartenders, servers, and party staff for hire in your area.
Our event staff is located in San Diego, Dallas, Los Angeles, Richmond, New York, Philly, Chicago, Virginia Beach, OBX, Austin, Boston, Phoenix, and many other cities nationwide. Our staff are background checked and have deep party experience so your next party will be a success!