How to Throw the Perfect Game Night

Sitting around talking and sipping on drinks can be fun at parties, but why not spice it up once in a while? The perfect game nights is not only fun for all the guests but can be a great time to plan for whoever is hosting. There are so many different types of game nights, and Party Host Helpers has some great ideas and tips for you!
Types of Game Nights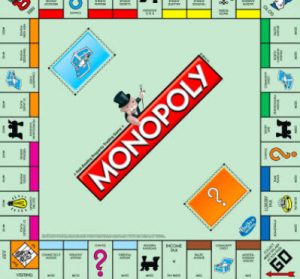 Throwback Game Night
At this throwback game night, the theme can be a specific era or just a throwback night in general. You can have everyone dress up in clothing from respective eras, and play throwback music as well. 
You can also decorate accordingly and play old board games from your childhood all night (such as Monopoly, Candyland, etc.), laughing, and reminiscing about the past.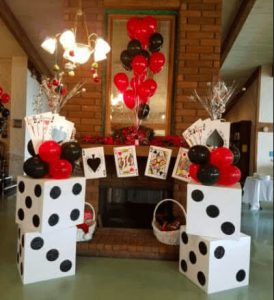 Casino Game Night
For casino game night, everyone can come dressed in fancy cocktail dresses or suits. There can be different games set out like a casino would have, such as blackjack, poker, a roulette wheel, and more!
 You can also decorate with casino party decorations that consist of colors such as red, yellow, and black, as well as printing out cards, money, or dice decorations.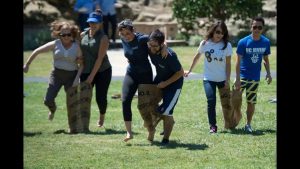 "Color War" Game Night
Remember color wars at camp? Well, why not recreate it at game night? Before the party, people should get into pairs and pick what color they want to be. Then everyone should come dressed up in their respective team's colors. 
Games for tonight can include a three-legged race, a potato sack hopping race, the holding an egg on a spoon without it breaking, a water balloon toss, and so much more! You can play for points and see which team wins, or just have fun with it! 
Decorations for this type of game night could look like decorating different areas of the house the respective colors of each of the teams. This is a perfect game night if you want to be more active.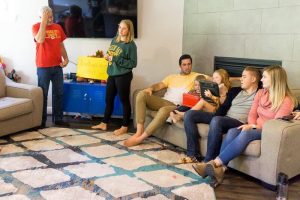 Game Show Night
For Game Show Night, you can have one person be the "host," and have everyone else be the "guests." Some good games for Game Show Night include Family Feud, Are You Smarter Than an (imaginary) Fifth-Grader, Deal or No Deal, Jeopardy, Trivial Pursuit, and more! This one is also super fun to plan!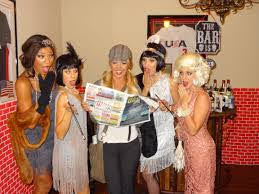 Mystery Game Night 
For Mystery Game Night, two great ideas are a murder mystery party or an escape room party. For the former, give everyone characters prior to the party, and have everyone dressed up as their respective character. Go about the night in character, trying to figure out who the murderer is. 
For decorations, you could have fake blood smeared across the wall, fake cobwebs, creepy signs, and more! Our event staff can help facilitate! An escape room party is for someone who loves to plan and create puzzles. 
For this type of game night, you turn your house into an escape room! You have guests come and they must work together to get from room to room, only being able to leave that room if they solve the hidden clues. They must come together to find a hidden object that is placed somewhere at the end of the sequence of different rooms. Guests will love it!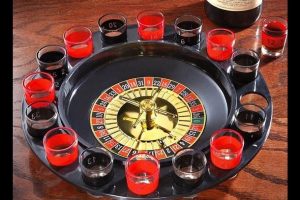 Drinking Game Night (21+ only)
This can be a super fun way to both have some drinks, and get a little competitive (drink responsibly!). Also, if someone does not drink alcohol, they can substitute the alcohol for water or another drink of their choice. 
Some games to play at this night are beer pong, cheers to the governor, drink Jenga, vodka roulette, and more. This is a night everyone will love and will bring you back to your college days!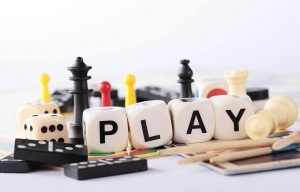 Miscellaneous Game Night
Say you want to throw a game night party but it is either last minute or you do not want to plan too much, just have a Miscellaneous Game Night! This game night is a minimal effort but maximum fun. 
For this night, you can do a mixture of games. You can play your favorite board games, or play fun games such as charades or head-bands that everyone gets into! You could decorate or bake if you want, but no pressure! 
This game night is perfect if you want to plan a fun night with minimal effort.
Tips!
Now that you've heard about all the different types of game nights you can have, here are some tips to make your game night party even better.
1. Make fun invitations (whether these are by mail or are evites) that are on theme with whatever game night you are having. For example, you can assign the various guests their color for the "Color War" Game Night through the invitation, and make the invitation decorative to that respective color. You can even make the invitation part of the game, such as including a clue for the Murder Mystery game night or the escape room game night. This is a super fun way to take your game night to the next level!
2. For food, have finger foods or snacks that are easy to pick up and eat during the game night. If you layout foods that could get messy or take some time to eat, this could take away from the game night and it might be difficult to do both. Some great foods for game nights are finger sandwiches, chips, cookies, cupcakes, pigs in a blanket, baked mac-and-cheese bites, spinach and artichoke squares, and so many more! Our party staff can help set up the food and replenish throughout the night!
3. Make sure you have the necessary number of people for a game night. Even numbers are good for teams, and usually the more people the better!
4. Decorate according to the theme! There have been tips thrown in the various game nights on how to do this, but have fun and get creative with it! If you love DIY's and being crafty, decorating will be a blast and the planning might be just as fun as the party itself! If you need help with this, our event staff for hire can come early to help set up all the details!
When you're looking to host an event, Party Host Helpers has event staff to help so you can be a guest in your own home. Contact us today to get in touch with your local Regional Director. We have bartenders, servers, and party staff for hire in your area.
Our event staff is located in San Diego, Dallas, Los Angeles, Richmond, New York, Philly, Chicago, Virginia Beach, OBX, Austin, Boston, Phoenix, and many other cities nationwide. Our staff are background checked and have deep party experience so your next party will be a success!