New Year's Eve Traditions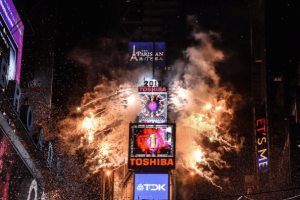 New Year's Eve is a joyous celebration filled with excitement, stunning fireworks shows, and lots of champagne. Unique traditions that are upheld for centuries across households are what make the date so special. Every family celebrates December 31st with their own special customs with hopes of ringing in the new year with more financial prosperity and personal happiness than the year prior. In the United States, for example, one commonly looks to the infamous Ball Drop in New York City to formally ring in the new year. Party Host Helpers is happy to present some New Year's Eve traditions from across the world that may bring good luck to your household in 2021!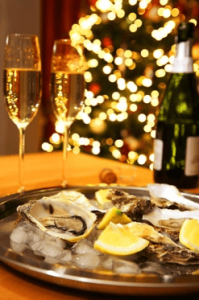 A New Year's staple found around the world is champagne. However, we have the French to thank for this New Year's Eve, or "Le Réveillon de la Saint-Sylvestre," tradition. In addition to a glass of bubbly, another French tradition is serving up a delicious feast present with foie gras, escargots, oysters, and various other seafood. While the New Year's Eve celebration in France tends to be a private affair, some prefer to throw a themed dance party or hit the city streets for a grand night with the locals. There will surely be lots of champagne involved no matter how you choose to celebrate the night!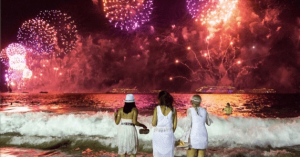 In Brazil, a common "Reveillon" tradition is to wear strictly white garments and head to the beach where you will skip over seven waves. With each wave, you make one wish you would like to see come true in the new year! A religious tradition, along with the significance of the number seven, is white garments. These are all said to bring peace and harmony. To further ensure a successful year, the foods you eat on New Year's Eve determine how your year will go with lentils bringing you good luck and pomegranates bringing you wealth. If you are looking for a financially prosperous year, consider adding some pomegranate seeds to your champagne glass!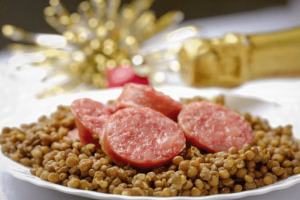 The New Year's Eve feast does not fail to impress in Italy with its amazing cuisine. A longtime culinary tradition is to serve zampone e lenticchie, which is pig's trotter and lentils. Another common dish is cotechino e lenticchie, which is trotter meat sausage and lentils. These similar dishes both ensure abundance, luck, and prosperity. Of course, dinner is accompanied by festive drinks such as prosecco and sparkling wine. Italians also traditionally wear red underwear on New Year's Eve to foster good luck in the new year. Italian celebrations tend to be large, so family and friends gather to welcome the New Year together. No better way to ring in the new year!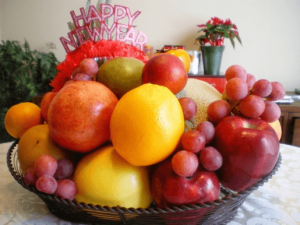 New Year's Eve traditions in the Philippines are highly superstitious. Filipinos take it very seriously to ensure a prosperous year. First and foremost, make some noise! Banging pots together, playing instruments, and turning up the music will drive away any evil spirits in the household! Be sure to wear polka dots from head to toe, as round objects are a symbol of wealth. Additionally, the New Year is welcome displaying twelve different round fruits which symbolize the months of the year. Fruits can include apples, mangoes, grapes, cantaloupes, and more. What a way to start the year: looking fashionable and eating our fruits!
It is interesting to learn unique customs that bring joy into different households every New Year's Eve. Party Host Helpers loves to see these wonderful traditions come to fruition. Make your upcoming celebrations perfect by hiring our Helpers to set up the venue with your best decorations or hand out drinks and platters while you catch up with friends and family. We have event staff all over the nation including New York City, Tampa, Richmond, Dallas, Austin, Los Angeles, and more! For more information on our party servers and private bartenders, email us at parties@partyhosthelper.com or call us at (844) 30-PARTY.