How to Host The Perfect Tailgate (From a College Senior)
Now that we have officially entered fall, I think it is safe to say that we have officially entered tailgate season. Here at Party Host Helper, we want to make sure that you are doing everything to host the most memorable tailgate. We understand that hosting a tailgate can be very overwhelming, let us help! Hire bartenders or servers to make your tailgate live up to its fullest potential. As a senior at Penn State, I have attended quite a few football tailgates throughout my years. Here are some of the best things I have seen at tailgates!
Food
Whether you are hosting a tailgate for college football or NFL football, food is one of the most important things to have. As a college student, there is nothing better than showing up to a tailgate filled with comfort food. It is important to have a variety of food that will not only taste good but will also keep your guests full throughout the day! Having a staple like cheesesteaks or burgers is great to pair with a simple appetizer like dips or Mac and Cheese. If you do not have access to a grill or just want to keep it easy, you can never go wrong with a hoagie or sandwich tray. Remember to have small trays for your guests to snack on such as chips or soft pretzels. Check out our past blogs for recipe ideas and inspiration!
Drinks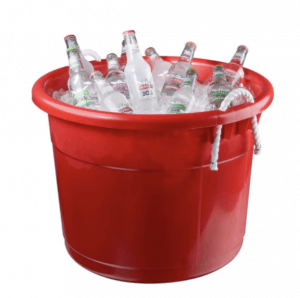 Odds are if you are tailgating, you are drinking! It is important to remember that you will be drinking for a long duration so it is always safe to stick to beers or seltzers. If you want to serve more than beer or seltzers, you could have a mini bar or even make a signature cocktail. An important key to a good tailgate is having a variety of drinks to have, but do not forget the water! An easy way to display your drinks if you do not have enough coolers is to use round storage bins and fill them with ice, they will keep your drinks cold and easy to access.
Games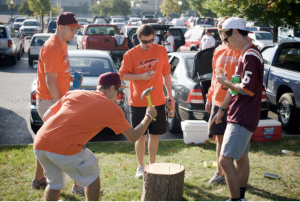 You want your guests to stay entertained at your tailgate, and if you are friendly, you want people walking by to want to join your tailgate. An easy way to make friends at a tailgate and keep your guests entertained is to have multiplayer games. A unique tailgate that I have seen gaining popularity the past years is stump, which is quite literally a tree stump. To play this game you need a tree stump, nails and a hammer. You can find the rules of the game here. You can also play other popular tailgate games such as corn hole, beer pong or stack cup to keep your tailgate entertained.
Music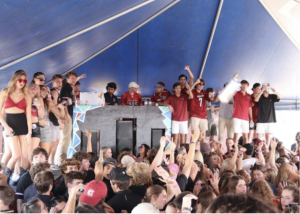 Now you might think this one is a no brainer but there are many ways you can spice up the music at your tailgate. The last tailgate I was at had a live band and it completely took the tailgate to the next level! If live music is not your thing, people have also hired DJs for their tailgates which creates such a fun environment. If you just want to stick to your own music that is totally fine! Create a fun playlist before you get out there and connect to either a speaker or your car so everyone can enjoy. You can even make a playlist public so your guests can add to it and everyone can get a little bit of what they want.
Let Party Host Helpers take away the stress of hosting the perfect tailgate! Hire our staff to set up, clean up, and host your tailgate for you. Find out more information on our website or call us at (844) 30-PARTY