The Best Appetizer Recipes For Your Next Super Bowl Party

When it comes to hosting a Superbowl party, it is ALL about two things: the game and the food. While we can't control the game, we can provide input on some of the best Super Bowl appetizers that are a hit this season.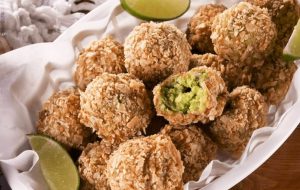 The only thing that makes guacamole better? Frying it.INGREDIENTS3 avocados, pitted1 lime1/4 c. freshly chopped cilantro, plus more for garnish 1/2 small red onion, finely chopped1 small jalapeño (seeded if you prefer less heat)1 tsp. kosher salt, plus more for serving2 large eggs, beaten with 1 teaspoon water 2 c. crushed tortilla chipsVegetable oil, for fryingDIRECTIONSJuice half the lime and slice the other half into wedges for serving. Line a small baking sheet with parchment paper.In a large bowl, combine avocados, lime juice, cilantro, onion, jalapeño, and salt. Scoop tablespoon-sized balls of guacamole onto the baking sheet and freeze for 30 minutes.Place beaten eggs and crushed tortilla chips in separate shallow bowls. Roll frozen guacamole first in chips, then the egg then chips again. Repeat until all guacamole balls are coated.Fill a large heavy-bottomed pot halfway with vegetable oil. Heat oil to 350°, then fry balls in batches until lightly golden, 2 to 4 minutes. Place on a paper-towel-lined plate and season with salt. Transfer to serving the dish and squeeze with lime.
The perfect salty treat to go with the beer!
INGREDIENTS:
1 cup mayonnaise
1/2 cup Dijon mustard
1/4 cup bacon bits or crumbled cooked bacon
1 to 3 teaspoons prepared horseradish
Pretzels or pretzel crisps
DIRECTIONS:
In a small bowl, combine the mayonnaise, mustard, bacon, and horseradish. Cover and chill until serving. Serve with pretzels. Simple as that!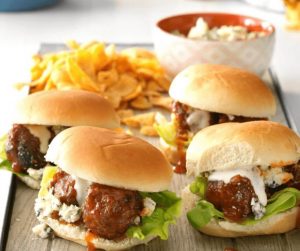 Sweet and tangy these sliders are exactly what you'll want while cheering on your team!
INGREDIENTS:
1/4 cup packed brown sugar
2 tablespoons cornstarch
1/4 cup Louisiana-style hot sauce
1/4 cup honey
2 tablespoons reduced-sodium soy sauce
1/4 cup apricot preserves
1 package (24 ounces) frozen fully cooked Italian turkey meatballs, thawed
Additional hot sauce, optional
Bibb lettuce leaves
12 mini buns
Crumbled blue cheese
Ranch salad dressing, optional
DIRECTIONS:
In a 3- or 4-qt. slow cooker, mix the first 6 ingredients until smooth. Stir in meatballs until coated. Cook, covered, on low until meatballs are heated through, 2-3 hours.vIf desired, stir in additional hot sauce. Serve meatballs on lettuce-lined buns; top with cheese and, if desired, dressing.
Looking for ideas on how to throw the best SuperBowl party? Check out our past blog post and if you need help at the event? We're here for that too. Our Helpers are trained servers, bartenders, and general event staff who are background checked.
This Superbowl, our Party Host Helpers are serving beers and refreshing apps across the nation. From San Diego to New York, we are in over 30 cities. Our Regional Directors are experts in their territories and will match you with the best helper for your event. Contact us for more info!