Thanksgiving Recipes: Impress Your Family This Holiday Season!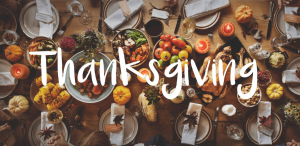 Fall is finally here, and that means Thanksgiving is right around the corner. Every year we remind ourselves how thankful we are by spending the day surrounded by family, delicious food, and football on TV. We look forward to eating turkey, mashed potatoes, pumpkin pie, and other tasty treats. This year, Party Host Helpers is giving you some of our favorite Thanksgiving recipes for traditional dishes with a special twist.
Thanksgiving Recipes with a Twist
1.Cranberry Brie Bombs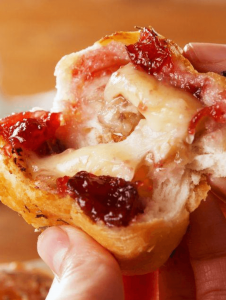 Traditional: Biscuits, and Cranberry Sauce
These delicious cranberries and brie infused biscuits are a huge crowd-pleaser. It is sweet, savory, and cheesy. The best part is it only takes 20 minutes of prepping and 20 minutes in the oven for only a total of 40 minutes to make.
2. Maple Bacon Carrots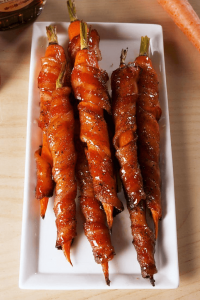 Traditional: Roasted carrots
Why have regular roasted carrots when you can wrap them in bacon first! These carrots steal the show when it comes to side dishes. The sweetness from the maple and salt from the bacon coats perfectly on a beautifully roasted carrot. This fun side dish only takes five minutes to prep and about 25 minutes in the oven.
3.Fried Mashed Potato Balls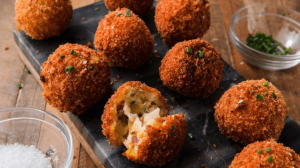 Traditional: Mashed Potatoes
This recipe can be used as a delicious appetizer to hold over the crowd until dinner, or for Thanksgiving leftover recipes. If you want to use this as an appetizer just make some extra mashed potatoes and you'll be ready to go! These golden-fried mashed potato balls are stuffed with cheese, bacon, and chives. It only takes 15 minutes to prep, and 10 minutes to fry them up to serve to your friends and family for Thanksgiving!
4. Whole Roasted Cabbage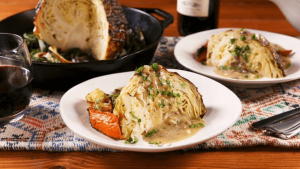 Traditional: Roasted Turkey
Are you expecting any vegetarian guests? This mouthwatering dish ensures that all guests have their own main dish to look forward to whether it the turkey or a whole roasted cabbage! This vegetarian dish is tender and loaded with lots of flavors. Since it is roasted this recipe also includes how to make a gravy for it! It only takes 25 minutes to prep to make the vegetarian guests feel special, and an hour and thirty minutes to complete the whole dish!
We hope these recipes are able to make your Thanksgiving special. To make the holiday extra special, hire one of our staff to help out. It can be incredibly stressful hosting Thanksgiving which is where we come in. Our Helpers can pour wine, pass out apps, and help manage cooking. Best of all, we can take care of the dishes!
Contact Party Host Helpers to get in touch with your local Regional Director who can match the right helpers to meet your needs so you can enjoy time with your family this holiday season. Contact us today!