Summer Party Cocktail Ideas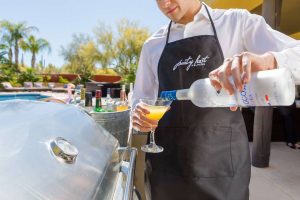 The quintessential summer is made up of watermelon, sunsets, and, above all, cocktail parties. And with longer days and warmer weather, throwing the ultimate cocktail party has never seemed more appealing. Luckily, we're here to help you do it with a step-by-step guide and six summer party cocktail ideas guaranteed to impress your guests.

Step 1: The Space
The first step in the ultimate cocktail party is to make the setting feel like the summer backyard wonderland of your dreams. And the key to making your setting perfect is lighting. Decorate your space with twinkle or globe lights. You can string them criss cross across your space or simply drape them across a wall. Another great idea is to spread votive candles over your tables. They're chic and inexpensive! Creative lighting is a simple hack to take your space from plain to dreamy. 

Step 2: The Food
A cocktail party doesn't necessarily call for a full buffet, but a little food goes a long way. And the ultimate cocktail party dish? A charcuterie board. Start with a quality board made out of wood or stone — marble or slate is the way to go. Fill the board with an assortment of cheeses, dried fruit, and nuts. (Cheese ideas: brie, gruyere, and goat cheese drizzled with honey.) Slice up a baguette and add little bowls of pesto, jam, and bruschetta with demi spoons. Get creative! The more items on your board, the better.

Step 3: The Entertainment
Cocktail parties are great for catching up with friends, but chatting for hours can get boring. Spice up your party with some simple lawn games. Bocce ball and cornhole are both easy to set up and can provide entertainment for hours. Plus, if you have kids, it gives the little ones something to do. Check out our blog on outdoor game parties for more ideas!

Step 4: The Vibes
No party is complete without music of some kind. Whether you have a bluetooth speaker or a full sound system, music is the perfect added touch for the perfect cocktail party. And if you're not into making playlists, Spotify and Apple Music have you covered with curated playlists like "Cocktails for Summer," "Summer Party," and "Summer Acoustic." 
Step 5: The Drinks
This is, of course, the most important step for any cocktail party. It's quite literally the main character of a cocktail party. And here are six great (and easy) recipes.

2 cups Strawberries sliced
1 Orange sliced
1 cup Basil loosely packed
2 Lime sliced
1 Bottle White Wine
½ cup Tequila 
3 cups Sparkling Water
Instructions:
Leave the peels on while slicing the oranges and lime. Add the fruits, lime and basil to a pitcher.
Pour tequila and wine over the fruits and give it a stir.
Refrigerate for at least 3-4 hours or preferably overnight. When you are ready to serve, pour in the sparkling water.
 
Ingredients
:
4 ounces grapefruit juice
4 ounces orange juice
1 ounce grenadine
4 ounces simple syrup
24 ounces champagne or sparkling wine
Instructions:
Combine grapefruit juice, orange juice, and simple syrup to glass. Top with champagne and a splash of grenadine to finish. 

Ingredients:
1 bottle of rosé (approx. 750 mL) 
8 strawberries, cut in half
1 tablespoon honey
Instructions:
Open the rosé and pour 2/3 cup into a glass measuring cup; set aside for when serving.
In a blender, blend the remaining rose, strawberries, and honey until smooth and fully combined. Then pour the mixture through a strainer and into a covered baking dish.
Transfer the dish to the freezer and freeze at least 6 hours, or overnight. 
Blend the mixture again until it comes to a fluffy texture.
To serve, pour a splash of rose into each glass over the blended mixture (this step is important: it gives the final texture and brings in the character of the rose). 

Ingredients:
1 cup tequila
4 oz simple syrup
1 can ruby grapefruit White Claw
1/2 cup lime juice
1/2 cup grapefruit juice 
Instructions:
Combine and stir! 

Ingredients:
3 oz white rum
10 oz pina colada mix
2-3 cups ice
2 oz white rum
8 oz strawberry daiquiri mix
2-3 cups ice
1 cup strawberries
Instructions:
In a blender, mix together 3 oz white rum, 10 oz pina colada mix, and 2-3 cups of ice. Pour into a pitcher.
In the blender, then add 2 oz white rum, 8 oz strawberry daiquiri mix, 1 cup of strawberries, 2-3 cups of ice. 
Pour a bit of the strawberry daiquiri mixture into a glass, then pour your pina colada mix, and finish with more strawberry daiquiri.

Ingredients:
2 cups fresh blackberries rinsed and drained
1 to 2 tablespoons sugar 
2 Meyer lemons
4 ounces lemonade 
4 ounces tequila
Instructions:
Process blackberries in a blender until smooth. Place a wire mesh colander over a small bowl and pour the blackberry puree into the colander, pushing it through the wire mesh and into the bowl with the back of a spoon. Add 1 to 2 tablespoons sugar to the seedless puree and stir to combine. 
Fill a cocktail shaker about 3/4 full with ice. 
Add 2 teaspoons of the blackberry puree, 2 ounces lemonade, and 2 ounces tequila. Squeeze in the juice of 1/2 a lemon. 
Place the cover on the shaker and shake. Strain through the cocktail shaker over ice.
Repeat with the remaining ingredients for a second cocktail.
If you're looking to host an event, Party Host Helpers has event staff to help so you can be a guest in your own home. Contact us today to get in touch with your local Regional Director. We have bartenders, servers, and party staff for hire in your area.
Our event staff is located in San Diego, Dallas, Los Angeles, Richmond, New York, Philly, Chicago, Virginia Beach, OBX, Austin, Boston, Phoenix, and many other cities nationwide. Our staff are background checked and have deep party experience so your next party will be a success!