Easy Summer Party Snacks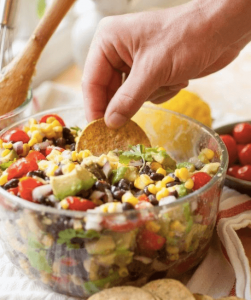 A summer party is incomplete without great snacks. It's also the perfect season to try some new recipes while so many things are fresh, and in season! Whether you're having a BBQ, pool party, or fancy dinner, these simple and delicious treats will surely be enjoyed by your guests.
This colorful and delicious appetizer will go quickly! Go to your local produce store and pick up some sweet, juicy heirloom tomatoes and get chopping!
Add a touch of sweet and salty to your party with these grilled chicken and pineapple skewers. They're super simple to prepare and always a crowd favorite.
Corn is so enjoyable come July. Throw a bunch on the grill, and cut into small pieces to serve as an appetizer or on the side of any dish. We love this Chile-Lime Butter recipe to add a kick to the sweetness of the corn.
Who doesn't love pizza? And best of all you don't have to turn the oven on to make one! Throw it on the grill, top with some fresh veggies and cheese, and serve.
What is a party without some type of dip or salsa to serve on corn chips! This great recipe is light and fresh – perfect for any occasion and incorporates perfect summertime ingredients.
Perfect treat for a hot summer evening, and great for those of us that love prosecco! No need to heat up an oven for this sweet treat!
Now that your ready for you next party, don't forget to hire a Party Host Helper to serve your guests (and you!) so you can sit back and enjoy the great time you worked hard to make happen!