San Francisco Party Host Helper Experience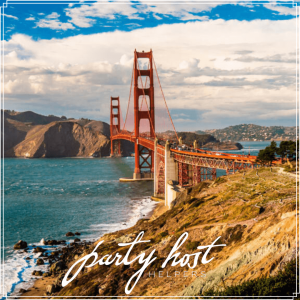 This past weekend I was honored to attend Julie and Matthew's 10th wedding vow renewals for a San Francisco Party Host Helper Experience. As a Party Host Helper, I was able to take away the inconvenience of hosting a party and take care of all the service-related needs! Party Host Helpers ensures that safety guidelines are being followed in order to keep all people safe and healthy.
Julie and Matthew's wedding vow renewals were being hosted on Baked Beach outside of San Francisco. There was a small aisle prepared on the beach with an arch and beautiful white chairs. This venue was located in one of the most selective and private areas on Baked Beach, providing maximum safety. Julie was an advocate for flower arrangements, and we were able to discuss her favorite flowers to incorporate into her decorations at the vow renewal. In addition, Julie also requested a champagne fountain rental, to really kick off the celebration of their renewal.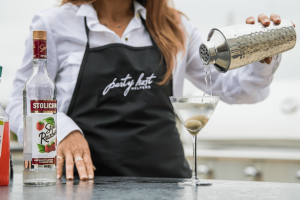 Only close family and friends were invited for this small vow renewal. This allowed us to ensure all guests were wearing a mask and social distancing as required. All Helpers are required to be equipped with masks and gloves during the course of the entire event. This included pre-setup and clean up.
Before the event day, I brainstormed a few additional rentals that Julie and Matthew may consider for their party. They loved the idea of high-top table rentals and chairs being spread out into the common area. In the common area is also where servers will tend guests with a wide array of drinks at a full-bar. Also, Julie and Matthew requested high-end appetizers. I was able to research the top restaurants in the area to provide delicious appetizers for the guests to admire.
As the day of the wedding renewal arrived, my team of Party Host Helpers decorated the outside area with tiki torches to light up the bright occasion in Julie and Matthew's hearts. In addition, we were able to arrange Julie's favorite flowers down the aisle where she will walk to meet hands with her husband, Matthew. The itinerary for Julie and Matthew's renewal was timed perfectly so that Julie would revisit her spouse at the end of the aisle as the sun was setting, the most beautiful time of the night. The tiki torches were lit as the vow renewals were coming to an end. The guests were tearing up in happiness from such a beautiful and heartfelt event.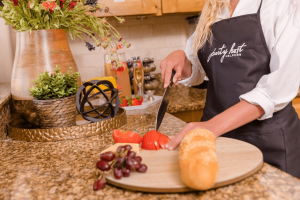 After the renewal, all guests were led to the common area for a small reception with drinks and appetizers. Julie and Matthew were able to mingle with their guests and receive congratulations as their love continues to flourish. The champagne fountain was provided front in center for all of the guests to enjoy throughout the night. Transportation services were provided to those who needed them.
My San Francisco Party Host Helper Experience was spectacular. We were able to turn an event that some may not consider possible into an absolutely lovely evening. Julie and Matthew's 10th wedding vow renewal was beautiful and unlike no other!