Party Host Helpers: The Best Kids Party Tips

When it comes to any event, Party Host Helpers has servers and bartenders that are experienced and talented at what they do. So when it comes to planning your child's birthday, we can take care of all your needs so that you can spend time with your child on their special day. We've asked some of our Helpers for their best kids party tips and we're sharing them with you.
Food
"When it comes to food, I recommend having easy to grab foods like pizza and chicken nuggets for the kids. I also recommend having things that the adult will enjoy too like wraps, dips, and salads."
-Jenna, Washington, D.C.
"For some healthy options, add some cut-up fruit or veggies in fun shapes! Kids end up eating so much sugar at birthdays and the fun shapes encourage healthy eating"
-Holly, Charlotte
Drinks
"Kids seem to love lemonade all year round. One trick I've learned from the parents is to cut it with water so their sugar intake isn't as high. Also writing names on the cups is a great way to reduce the number of kids grabbing a cup each time they want another drink"
-Erica, Richmond
"Mocktails are a lot of fun for tween birthday's and there are so many recipes you can find online to match your theme. Name it after the birthday girl or boy in honor of their special day "
-Rachel, Pittsburgh
Entertainment
"Have you ever seen 30 kids stop jumping around to watch juggling? I have! It is a nice distraction for them and the parents"
-Alayna, Houston
"Nowadays you get to get your child's favorite princess to show up in character and talk to the kids at the party. They LOVE it"
-Lizzy, Hudson Valley
Theme
"Kid's love theme's and one really popular one we've been seeing is Frozen, especially since Frozen II came out. Trolls is also a super popular one with the kids, and both these themes are colorful so the decorations end up looking really nice "
-Sandi, Denver
"Believe it or not, kids do appreciate it when parents incorporate the theme in the food. I've seen some simple cupcakes transformed and they do take notice!"
-Aly, Boca Raton
When you're hosting a kid's party, we highly recommend serving food kids will enjoy, providing fun entertainment, and having a fun theme! the number one thing you need to do? Have the right people to help you by hiring Party Host Helpers. Let our staff serve food, cut and distribute cake, and clean up trash and wrapping paper from gifts.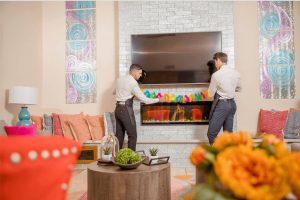 Party Host Helpers have party staff for hire in your city who can make your child's birthday amazing! We are nationwide and in Philadelphia, Denver, South Florida, Hudson Valley, Austin, Virginia Beach, Richmond, New York, Phoenix, Houston, and many other cities.