Easy Homemade Flower Arrangements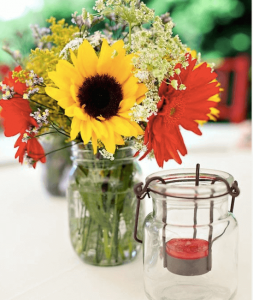 There's always a million things that need to be done before a party. In addition to helping you with setup, cleanup, serving, and refreshing, we can also help with your décor! One of our helpers in Philadelphia recently put together these mason jar arrangements for a family BBQ.
All you need is a few 32 oz. mason jars, and some of your favorite flowers from the local grocery store – the host picked up these beautiful gerbera daisies and limonium sinuatum from Trader Joe's.
Once the flowers were cut and assorted, she sliced some lemons to add an extra pop of color and placed around the stems. In just 20 minutes these beautiful arrangements were ready to go!
Save yourself some time and money, and let us put together some easy floral center pieces for your next shin-dig!
Party Host Helpers provides party and event staff for any occasion big or small. We work in homes or event spaces and allow you to enjoy your own party. Our job is to make you, the host, look good while eliminating your stress.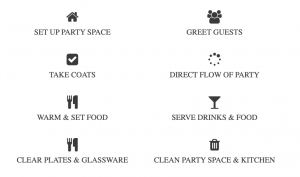 Party Host Helpers are:
 friendly & well–mannered
 professional & hard–working
 quick on their feet
 smart
 helpful
 experienced
 background screened
 insured
We help YOU with:
 dinner parties
 holiday dinners
 fundraisers
 children's parties
 bridal & baby showers
 barbecues & picnics
 engagement parties
 corporate parties
Imagine… Hosting your next party and your only job is to ENJOY!
Now that your ready for you next party, don't forget to hire a Party Host Helper to serve your guests (and you!) so you can sit back and enjoy the great time you worked hard to make happen!