5 St. Patrick's Day Traditions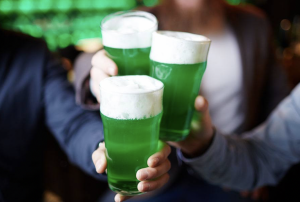 (Photo from phillymag.com)
Everyone knows when McDonalds starts selling Shamrock Shakes that St. Patrick's Day is just around the corner. St. Patrick's Day is filled with corned beef and cabbage, pints of Guinness beer, and Irish soda bread. At Party Host Helpers we have event bartenders, catering staff, waiters, cocktail servers, and more to help make your St. Patrick's Day party a success! It is a cultural and religious celebration held every year on March 17. St. Patrick's Day is a global celebration of Irish culture and it remembers St. Patrick who was one of Irelands patron saints. St. Patrick's Day traditions are for anyone who feels like wearing some green! Here at Party Host Helpers we are excited to share with you some St. Patrick's Day traditions celebrated around the United States!
Chicago, Illinois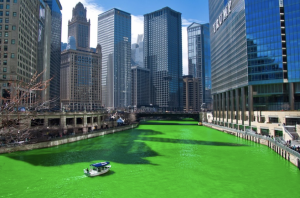 (Photo from Chicago.curbed.com)
One of the most famous and well-known St. Patrick's Day traditions is in Chicago. Every year the Chicago river turns green right in time for the parade held on the closest Saturday to St. Patrick's Day. This tradition has been guarded by the Butler and Rowan families for more than 50 years. A six-person boat crew distributes a top-secret recipe that contains eco-friendly, vegetable-based dye into the river, make the waterways green for a couple of days.
New London, Wisconsin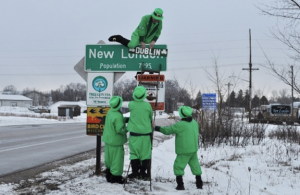 (Photo from worldtravelure.com)
In New London, leprechauns crawl around the city and change all the signs from New London to "New Dublin" for the day — even on the highway. This tradition stems from the wave of Irish immigration that fundamentally altered New London's previously German cultural profile in the 19th century. The leprechauns who are members of the local Shamrock Club go on to visit hospitals and schools. In addition to the highway sign mischief, the town also hosts an "Irish Fest," where a variety of Celtic bands perform for guests in a heated tent.
O'Neill, Nebraska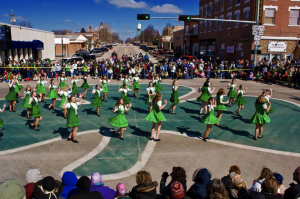 (photo from cityofoneillnebraska.com)
In case anyone forgets that O'Neill is the official Irish capital of Nebraska, the permanent giant shamrock painted in the middle of the road serves as a reminder. At the intersection of Route 281 and Highway 20, the massive clover — allegedly the largest shamrock in the world — is a glaring reminder of a 4,000-person town's Irish heritage. Visitors to O'Neill on St. Patrick's Day will be treated to some strange traditions, like a Green Eggs and Ham Children's Literature Festival, a Shamrock Fun Run, free popcorn, and the crowning of the St. Patrick's Day King and Queen. Another fun fact is that on the 17 of every month everyone wears green in honor of the town's Irish heritage!
Hot Springs, Arkansas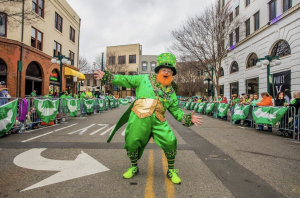 (photo from matadornetwork.com)
Hot Springs is the home of the world's shortest St. Patrick's Day Parade, which takes place on "The Shortest Street in Everyday Use in the World," as it was named by Ripley's Believe It Or Not in the 1940s. Bridge Street, which is only 98 feet long, hosts the hour-long parade, which includes Elvis impersonators, a Blarney Stone kissing contest and various other performances.
Portland, Maine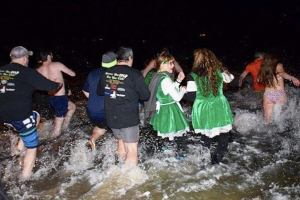 (photo from matadornetwork.com)
Every year in Portland, Maine. The Paddy's Day Plunge is a 17-year-old Portland tradition, in which people gather on the East End beach at 5:30 AM for a good old-fashioned Viking shower. After the plunge, the Rí Rá restaurant opens its doors for a complimentary Irish breakfast, live auction, and raffle. It's also for a good cause (and not just adrenaline): The event donates proceeds to charity.
It's fun and interesting to learn about many of the different St. Patrick's Day traditions that take place all over the United States. Here at Party Host Helpers we love helping bring different traditions to life! Even though you may not be able to attend these celebrations due to the pandemic you can still bring some St. Patrick's cheer into your house. You can make your upcoming St. Patrick's Day celebration even more special by hiring Party Host Helpers. We have event staff all over the nation including New York City, Tampa, Richmond, Dallas, Austin, Los Angeles, and more! For more information on our party servers and private bartenders, email us at parties@partyhosthelper.com or call us at (844) 30-PARTY.